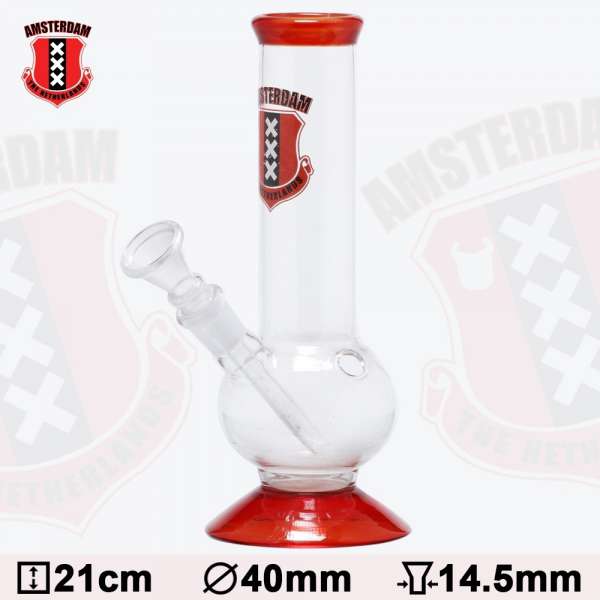 The bong is easy to use and works by pulling smoke through the submerged downstem. This causes the smoke to cool as it diffuses in the bubble base before being pulled up the straight neck. This process results in a smoother cooler hit but a lot less harsh on the throat and lungs than using a dry pipe
Borosilicate glass
14.5mm downstem with attached herb bowl
Ideal downstem length: 10 cm / 4 inches
This Amsterdam themed glass bong measures 21 cm / 8.3 inches in height, features a bubble shaped base and has been designed to be used with dry herbs. The bong is equipped with a 14.5mm ground joint that securely keeps the removable downstem with attached herb bowl in place. The rimmed mouthpiece feels super comfortable to use and the hollow, circular foot provides great stability. To top it all off there is a carb hole located on the side of the bubble base body for extra control of your hits.
The bong is made from borosilicate glass and is decorated with red glass accents on the rimmed mouthpiece and on the circular foot. The upper part of the bongs tube is decorated with the words Amsterdam and The Netherlands on a XXX Coat of Arms.
This glass bubble base bong is super easy to clean and maintain and is big enough to enjoy and share with friends. If looked after correctly this bong will last for years!
This Amsterdam Bouncer Glass Bong is a special piece of glass art that will give you a fine hit! It is formed in the shape of a red hollow base tube of 21cm height and 40mm diameter. It comes with a socket of 14.5mm diameter, used as a diffuser, in order for your smoke to spread into the water chamber. The socket connects to a slide bowl for placing your tobacco or herb. Your bong includes also a kick hole at the height of the socket that will give you the option of enjoying a different toke angle. With the Amsterdam logo featuring all over the tube, the bong ends up in a red mouthpiece ring for a more pleasant flavor.
Features:
Borosilicate glass
14.5mm ground joint
14.5mm downstem with attached herb bowl
Ideal downstem length: 10 cm / 4 inches
Rimmed mouthpiece
Circular foot
Carb hole
Red glass accents
Decorated with Amsterdam XXX Coat of Arms
Easy to use and clean
Frequently Asked Questions about bongs:
How does a glass bong work?
Smoking with a glass bong is straightforward. Glass bongs consist of a few elements; a bowl, a carb, a downstem, a base, and a tube. The first step in using your bong is to fill the bong with water. After that, you have to place your herb or tobacco into the bowl. Make sure your herb or tobacco is ground well for the best combustion flow. Next to that, it's essential to place a screen in the bowl before you fill it, to prevent small pieces of the herb or tobacco from falling through. Now it's time to light up the bowl and start inhaling the smoke. The smoke will make its way through the bong and will be filtered by the water. This process will give you a smooth hit.
How much water do you put in a glass bong?
There is no rule about how much water to put in your bong. In most cases, the bong should be filled about half an inch above the bottom part of the downstem, so that it's submerged in water. With this amount of water, the water will act as a filter and cooler to the smoke. This process will result in a smooth hit that will feel easy on your throat and lungs.
There are also glass bongs that are equipped with percolators that will filter the water. These percolators shouldn't be filled with water because that stops them from bubbling.
Are glass bongs better than plastic bongs?
Glass bongs aren't notably better than plastic bongs, but there are many advantages when you're using a glass bong. Plastic bongs are cheap and not easy to break, but glass bongs will give you significantly better hits! Next to that, glass bongs are mostly easier and more rewarding to clean than acrylic bongs. When you clean your glass bong, it will almost always clean up as good as new, while with acrylic bongs, it's harder to get the stains out. Next to that, the plastic material won't last as long as glass will, and an acrylic bong will hold the smell of smoke.
Why are glass bongs so expensive?
The price of glass bongs depends on different factors. Glass bongs are more expensive than, for example, an acrylic bong because glass is a more expensive material. Next to that, some glass bongs are hand blown instead of made with a mold, making them more expensive. Next to that, you will also pay for the brand of the bong.
Are glass bongs dangerous?
Glass bongs are designed for daily use and shouldn't be dangerous. Though there are some things, you should be alert for when buying a bong. Make sure to don't buy a bong that has been made with lead paint. When you smoke a bong that has lead paint on it, it can occur that you're getting lead poisoning. When you experience the symptoms of lead poisoning, it's essential to consult a medical professional immediately.
Is it safe to smoke glass?
If you have a bong and a part of it broke, some glass particles will become stuck in the water while being filtered and thus will not be able to be inhaled. To be sure that you won't inhale any glass, rinse your bong off with water and let it dry for at least 12 hours. Next to that, it's essential to don't use a pipe because you could suck the glass in your throat.
The best way to make sure you won't inhale any glass is, of course, to buy a new glass bong.
Will a glass bong break in the cold?
If you handle your clear bong with care, it will not suddenly break in the cold. It might happen when you fill your glass bong with water entirely and leave it outside where the liquid can freeze. Then the glass will expand, which can cause it to break. Just make sure to empty the glass bong after using it and not leave it outside when it's freezing.