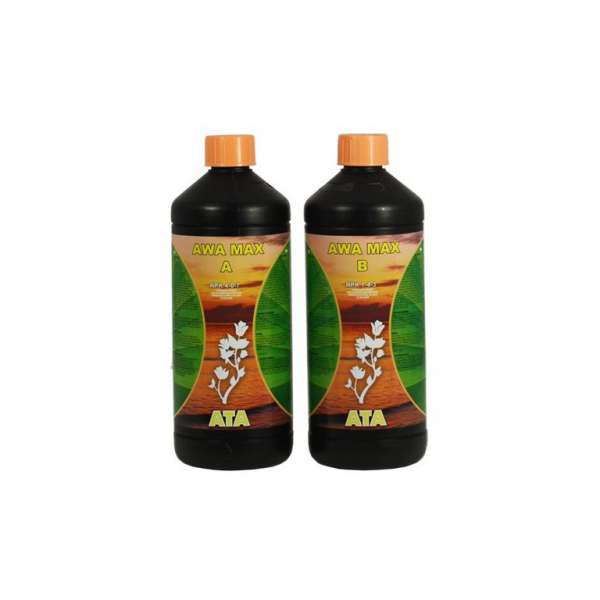 ATA AWA Max A + B nutrition for the flowering period regulates the pH value which renders the plant flowing even faster and more evenly. Using the feed water again, the plant will use the same nutrition several times. Thanks to the complex formulation of AWA Max A + B, the plant ensures optimal nutrition throughout the flowering period. 
STIMULATES THE PRODUCTION OF CHLOROPHYLL
CONTAINS NPK'S
SUITABLE FOR ALL WATERING SYSTEMS
Atami ATA AWA MAX A+B 1L
Introducing the Atami ATA AWA MAX A+B 1L, a powerful and efficient nutrient solution designed to maximize the growth and yield of your plants. This exceptional product is formulated with a perfect balance of essential nutrients, ensuring optimal plant development and overall health.
The Atami ATA AWA MAX A+B 1L is a two-part nutrient system consisting of Part A and Part B. Part A contains a blend of macro and micronutrients, including nitrogen, phosphorus, and potassium, which are essential for vigorous plant growth. Part B complements Part A by providing additional trace elements and minerals that promote strong root development and enhance nutrient uptake.
One of the key features of the Atami ATA AWA MAX A+B 1L is its versatility. It can be used in various cultivation systems, including hydroponics, coco coir, and soil. This makes it an ideal choice for both beginner and experienced growers, as it can be easily integrated into any growing setup.
When used as directed, the Atami ATA AWA MAX A+B 1L delivers exceptional results. It stimulates robust vegetative growth, encourages abundant flowering, and enhances the production of essential oils and flavors in fruits and flowers. The nutrient solution also helps plants withstand environmental stressors, such as temperature fluctuations and nutrient deficiencies.
Another advantage of the Atami ATA AWA MAX A+B 1L is its user-friendly nature. The two-part system is easy to mix and apply, ensuring hassle-free cultivation. The concentrated formula allows for precise dosing, preventing over or underfeeding of plants. This ensures that your plants receive the optimal amount of nutrients for healthy and vigorous growth.
Furthermore, the Atami ATA AWA MAX A+B 1L is manufactured using high-quality ingredients, ensuring purity and effectiveness. The nutrient solution is carefully formulated to meet the specific needs of plants at different stages of growth, from seedling to harvest. This comprehensive approach ensures that your plants receive the right nutrients at the right time, maximizing their potential.
Whether you are a hobbyist gardener or a commercial cultivator, the Atami ATA AWA MAX A+B 1L is a reliable and efficient nutrient solution that will take your plants to the next level. With its balanced formulation, versatility, and ease of use, this product is a must-have for any serious grower looking to achieve exceptional yields and superior plant health.