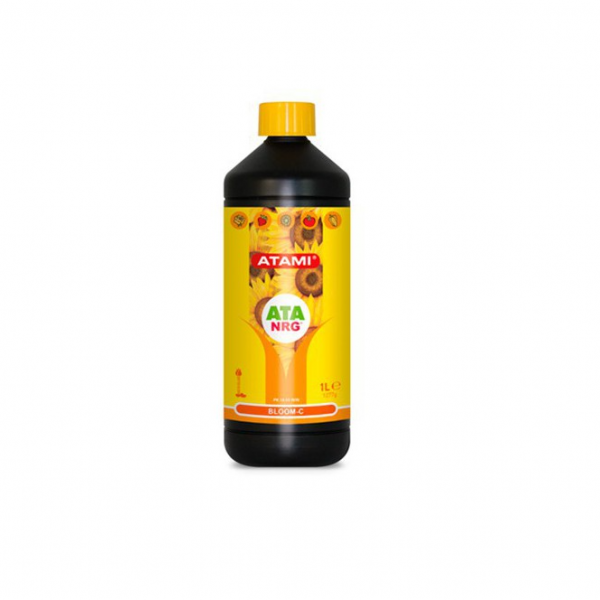 This organic bloom stimulator, ATA NRG Flower-C, has a positive effect on the blooming willingness of the plant, so flowering starts earlier and will ultimately last longer and be more intense. This bloom stimulator can be absorbed directly by the plant and will contribute to an explosive flower production. The flowers will become large in size, but retain their characteristic smell and taste.
STRONG YIELD-INCREASING
HIGHLY CONCENTRATED
POSITIVE EFFECT ON THE OVERALL DEVELOPMENT OF THE PLANT
The Magic Potion of Bloom: Introducing ATA NRG Bloom-C
Unleash the true blooming potential of your plants with the incredible ATA NRG Bloom-C by Atami. It's a splendid growth booster meticulously engineered to stimulate and enhance your plants' blooming phase. ATA NRG Bloom-C is a garden essential that promises to transform your horticultural adventures.
The Heartbeat of Blossoms
ATA NRG Bloom-C's fundamental purpose is to nourish your plants during their blooming phase, a crucial stage where they develop fruits and flowers. With this brilliant formula, expect an exuberant, vibrant blooming display that stands as a testament to your gardening efforts.
A Deep Dive into ATA NRG Bloom-C Specifications
ATA NRG Bloom-C is a liquid concentrate made from natural plant extracts and mineral nutrients. Its composition is designed to support the transition from the growth phase to the bloom phase, ensuring your plants are nourished when they need it most. Suitable for use in all types of growing mediums including soil, hydroponics, and coco substrates, this makes ATA NRG Bloom-C a versatile companion for all your gardening setups.
Charting the Journey: User Instructions
The use of ATA NRG Bloom-C is quite straightforward. From the first week of the bloom phase until the last, add 2 to 5 ml of Bloom-C per liter of water. The concentrate should be mixed well with water before application. Keep in mind, the use of ATA NRG Bloom-C should be combined with basic nutrition for best results.
The Secret Bloom Booster: Benefits Galore
The foremost benefit of ATA NRG Bloom-C is its proven effectiveness in promoting an exuberant bloom phase. By providing essential nutrients at the right time, it supports the development of bigger, brighter, and healthier flowers and fruits. This not only enhances the aesthetic appeal of your garden but also contributes to better crop yields.
A Salute to Mother Earth
ATA NRG Bloom-C is an eco-conscious product. Its formulation is based on naturally derived substances, ensuring that it is gentle on the environment while still being potent for your plants. Bloom-C is designed to provide the best care for your plants without compromising the health of our planet.
Unveiling the Bloom-C Package
Each purchase of Atami ATA NRG Bloom-C comes with:
1 bottle of ATA NRG Bloom-C. Choose from 250ml, 500ml, 1L, or 5L bottles, based on your gardening needs.
An in-depth user manual for a detailed guide to applying ATA NRG Bloom-C.
A Glorious Finale
To summarize, Atami ATA NRG Bloom-C is your secret weapon for achieving a spectacular bloom. It is a specialized solution designed to provide your plants with the nutritional boost they need during the bloom phase, resulting in vibrant, prolific blooms. Gardeners of all levels, from commercial growers to home gardening enthusiasts, will find ATA NRG Bloom-C a game-changer in their gardening journey.