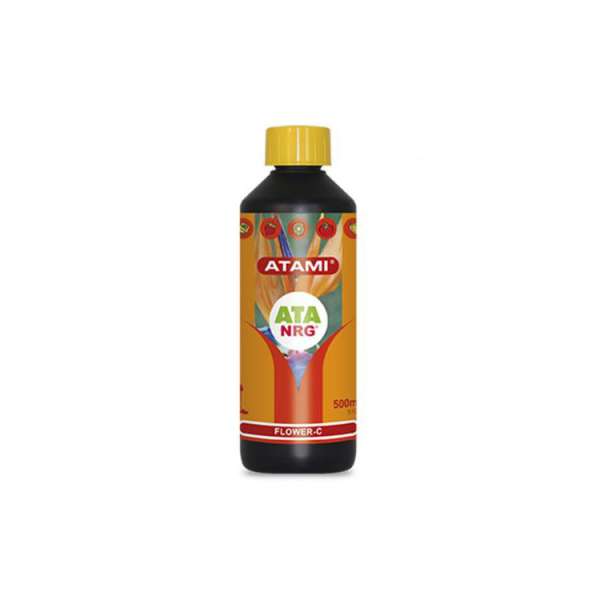 This organic bloom stimulator, ATA NRG Flower-C, has a positive effect on the blooming willingness of the plant, so flowering starts earlier and will ultimately last longer and be more intense. This bloom stimulator can be absorbed directly by the plant and will contribute to an explosive flower production. The flowers will become large in size, but retain their characteristic smell and taste.
LONGER AND MORE INTENSE FLOWERING PERIOD
EASILY ABSORBABLE
CAN BE USED ON TOP OF YOUR REGULAR NUTRITION
Atami ATA NRG Flower C 500ML
The Atami ATA NRG Flower C 500ML is a high-quality nutrient solution specifically designed to enhance the flowering stage of plants. This powerful formula contains a balanced blend of essential nutrients and minerals that promote healthy growth and abundant blooming.
With its unique composition, Atami ATA NRG Flower C provides plants with the necessary elements to develop strong and vibrant flowers. It contains a high concentration of phosphorus and potassium, which are crucial for flower formation and overall plant health. These nutrients play a vital role in enhancing the size, color, and aroma of flowers, resulting in a more visually appealing and fragrant garden.
One of the key features of Atami ATA NRG Flower C is its ability to stimulate the production of essential oils and resins in plants. These oils and resins not only contribute to the plant's defense mechanism but also enhance the potency and flavor of fruits and flowers. By using this nutrient solution, growers can expect improved yields and higher-quality crops.
Atami ATA NRG Flower C is suitable for use in various cultivation systems, including soil, hydroponics, and coco coir. Its versatile nature makes it an ideal choice for both indoor and outdoor gardening. Whether you are growing ornamental flowers, fruits, or vegetables, this nutrient solution can significantly enhance the flowering stage of your plants.
Another advantage of Atami ATA NRG Flower C is its easy application. The solution comes in a convenient 500ML bottle with a user-friendly measuring cap, allowing precise dosing and preventing wastage. Simply mix the recommended amount of Flower C with water and apply it to your plants during the flowering phase. Regular use of this nutrient solution will ensure optimal nutrition and support the development of robust and beautiful flowers.
Furthermore, Atami ATA NRG Flower C is formulated using high-quality ingredients that are carefully selected to meet the specific needs of flowering plants. The nutrients are easily absorbed by the roots, ensuring rapid uptake and utilization by the plants. This results in faster growth, improved flowering, and overall healthier plants.
In conclusion, Atami ATA NRG Flower C 500ML is a premium nutrient solution that provides essential elements for the flowering stage of plants. Its balanced composition, high concentration of phosphorus and potassium, and ability to stimulate essential oil production make it a valuable tool for growers looking to maximize the quality and yield of their crops. With its easy application and compatibility with various cultivation systems, this nutrient solution is a reliable choice for both beginner and experienced gardeners. Invest in Atami ATA NRG Flower C to witness the remarkable transformation of your plants into vibrant, blooming masterpieces.