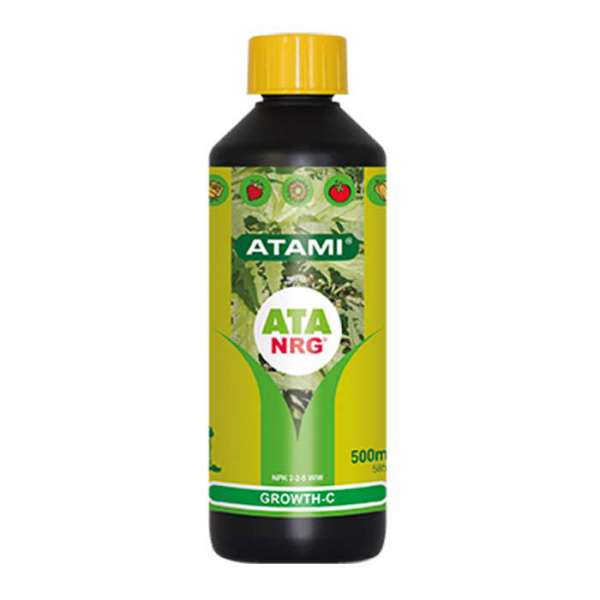 Organic growing is increasingly gaining in popularity. Atami has developed this growth nutrition for the organic food grower. It has a very positive influence on the development of the plant, ensuring a solid main stem with strong branches. In short, indispensable for a green, healthy plant!
STRONG YIELD-INCREASING
HIGHLY CONCENTRATED
SUPPORTS MICRO-ORGANISMS IN SOIL
Atami ATA NRG Growth - C 500ML
Introducing the Atami ATA NRG Growth - C 500ML, a revolutionary plant growth stimulator that is designed to enhance the growth and development of your plants. This powerful formula is packed with essential nutrients and bio-stimulants that promote vigorous growth, increased root development, and overall plant health.
The Atami ATA NRG Growth - C 500ML is formulated with a unique blend of organic and mineral ingredients, carefully selected to provide your plants with the optimal nutrition they need during the crucial growth phase. This growth stimulator is suitable for use in all types of growing media, including soil, coco, and hydroponics.
One of the key features of the Atami ATA NRG Growth - C 500ML is its high concentration of nitrogen (N), an essential nutrient for plant growth. Nitrogen plays a vital role in the formation of proteins, enzymes, and chlorophyll, which are essential for photosynthesis and overall plant development. By providing your plants with an ample supply of nitrogen, this growth stimulator ensures that they have the necessary building blocks to thrive.
In addition to nitrogen, the Atami ATA NRG Growth - C 500ML also contains a balanced mix of other essential nutrients, including phosphorus (P) and potassium (K). Phosphorus is crucial for root development, flowering, and fruiting, while potassium is essential for overall plant health, disease resistance, and stress tolerance. The combination of these nutrients in the ATA NRG Growth - C formula ensures that your plants receive a well-rounded diet for optimal growth and performance.
Furthermore, the Atami ATA NRG Growth - C 500ML is enriched with bio-stimulants that enhance nutrient uptake and improve plant metabolism. These bio-stimulants work in synergy with the nutrients to promote healthy root growth, increase nutrient absorption, and enhance the overall efficiency of the plant's physiological processes. This results in stronger, more resilient plants that are better equipped to withstand environmental stressors and produce higher yields.
Using the Atami ATA NRG Growth - C 500ML is incredibly easy. Simply add the recommended dosage to your nutrient solution or water and apply it to your plants during the growth phase. The concentrated formula ensures that a little goes a long way, making it a cost-effective solution for plant growth stimulation.
Whether you are a beginner or an experienced grower, the Atami ATA NRG Growth - C 500ML is a must-have product for anyone looking to maximize the growth and performance of their plants. With its powerful blend of nutrients and bio-stimulants, this growth stimulator will help you achieve healthier, more robust plants with increased yields. Give your plants the boost they need with the Atami ATA NRG Growth - C 500ML and watch them thrive like never before!