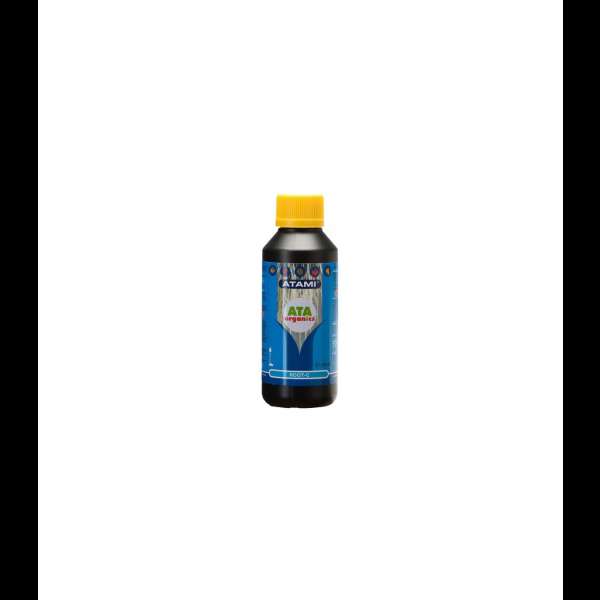 A large and healthy root system is a significant contributor to a well-developed plant. This organic root stimulator ensures a rapid and vigorous growth of the root system and has a preventive effect against soil diseases. The roots will quickly branch out and root volume will increase, giving the plant more hold and its size above ground will increase. 
HEALTHY ROOT SYSTEM
BETTER NUTRIENT UPTAKE
PREVENTIVE AGAINST SOIL DISEASES
Increases root health and volume
Welcome to the innovative world of horticultural solutions - Atami ATA NRG Root-C. A top-notch biological stimulator specially designed to kick-start robust root growth, Atami ATA NRG Root-C is every gardener's secret to healthier, stronger, and more productive plants. Whether you're an experienced horticulturist or a budding home gardener, Root-C can help you cultivate a lush, vibrant garden.
Design and Purpose
Atami ATA NRG Root-C is expertly formulated to stimulate root development in plants, providing an essential foundation for overall plant health and productivity. A healthy root system ensures efficient nutrient uptake, which significantly contributes to the growth and success of your garden.
Specifications
Made with 100% organic ingredients, Atami ATA NRG Root-C serves as an ideal choice for eco-conscious growers. The formulation is highly concentrated and enriched with biological nutrients essential for root growth and development. It contains root stimulating substances, plant sugars, and beneficial bacteria that promote root cell multiplication, resulting in dense and robust root systems.
Root-C is compatible with all growing mediums including soil, hydroponics, and coco-based substrates. This makes it a versatile product adaptable to various gardening setups.
User Guide
Using Atami ATA NRG Root-C is straightforward. During the first three weeks of the plant's growth phase, add approximately 1 to 5 ml of Root-C per liter of water. Because of its highly concentrated nature, a small quantity goes a long way.
Regular use of Root-C during the initial growth phase of your plants will lead to a significant improvement in root development. The rapid formation of new roots enables the plant to absorb more nutrients, leading to healthier, stronger plants and better yields.
Benefits
Atami ATA NRG Root-C's primary benefit is the promotion of a robust and healthy root system. A well-developed root system forms the basis for overall plant health, enabling efficient nutrient absorption, better resilience to environmental stress, and enhanced growth rates.
By fostering an expansive root network, Root-C allows your plants to tap into a wider nutrient base, which contributes to increased plant growth and improved yields. No matter what type of plant you're cultivating, from flowers to vegetables to commercial crops, a healthy root system is crucial for success.
Environmental Responsibility
As part of Atami's commitment to sustainability, ATA NRG Root-C is made from organically derived ingredients. Its eco-friendly formula ensures it won't negatively impact the environment or pose a risk to beneficial soil organisms.
What's in the Package?
Each purchase of Atami ATA NRG Root-C includes:
1 bottle of Atami ATA NRG Root-C. You can choose between 250ml, 500ml or 1L bottles depending on your gardening needs.
A detailed user manual for proper application.
Conclusion
In summary, the Atami ATA NRG Root-C serves as a gardener's ally for encouraging vigorous root growth, which subsequently leads to healthier and more productive plants. By fortifying your plants' root systems, Root-C paves the way for a lush, thriving garden. Whether you're a commercial grower or a home gardening enthusiast, Atami ATA NRG Root-C is an investment towards achieving your gardening goals.