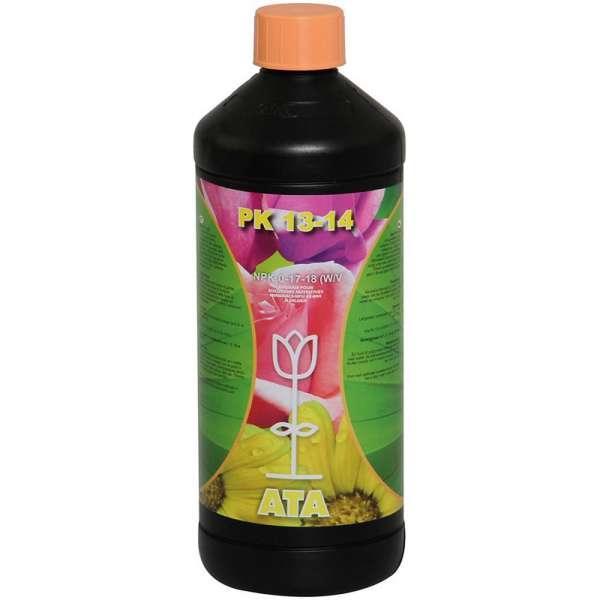 The combination of phosphorus and potassium leads to a perfect balance. Atami PK 13-14 is designed for all kinds of substrates, is directly absorbed by the plants and contains no harmful substances. It promotes the growth of a healthy root system and is used as an additional fertilizer for soil cultivation, hydroponics and coconut.
GOLDEN RATIO OF PHOSPHOROUS AND POTASSIUM
VOLUMINOUS AND COMPACT FLOWERING AND FRUITS
STIMULATES FRUCTIFICATION
Atami ATA PK 13-14 1L: Boost Your Plants' Flowering and Fruiting Potential
Introducing the Atami ATA PK 13-14 1L, a powerful flowering and fruiting stimulator designed to enhance the growth and development of your plants. This premium nutrient solution is formulated with a perfect blend of phosphorus (P) and potassium (K), two essential elements that play a crucial role in promoting abundant blooms and bountiful harvests.
With its high concentration of PK (13-14), this product provides a significant boost to your plants' flowering and fruiting potential. The increased levels of phosphorus stimulate the formation of strong and healthy flower buds, while the elevated potassium content enhances the overall quality and size of the fruits. This potent combination ensures that your plants produce vibrant, aromatic flowers and delicious, nutrient-rich fruits.
One of the key advantages of using Atami ATA PK 13-14 is its versatility. It can be used in various cultivation systems, including soil, coco, and hydroponics. Whether you are growing flowers, fruits, or vegetables, this nutrient solution is suitable for a wide range of plant species and stages of growth.
Application of Atami ATA PK 13-14 is simple and hassle-free. Just add the recommended dosage to your nutrient solution during the flowering and fruiting phase, and watch your plants thrive. The concentrated formula ensures that a little goes a long way, making it a cost-effective choice for both hobbyist and commercial growers.
Furthermore, Atami ATA PK 13-14 is carefully formulated to provide the optimal nutrient balance for your plants. It is designed to prevent nutrient deficiencies and promote healthy growth, ensuring that your plants receive the essential elements they need for maximum productivity.
In addition to its powerful nutrient composition, Atami ATA PK 13-14 also contains essential trace elements and bio-stimulants that further enhance the flowering and fruiting process. These additional components improve nutrient uptake, strengthen the plant's immune system, and increase resistance to environmental stressors, resulting in healthier and more resilient plants.
When using Atami ATA PK 13-14, you can expect to see remarkable results. Your plants will exhibit vigorous growth, abundant flowering, and an impressive yield of high-quality fruits. The enhanced aroma, flavor, and potency of your harvest will be a testament to the effectiveness of this exceptional flowering and fruiting stimulator.
So, whether you are a passionate home gardener or a professional cultivator, Atami ATA PK 13-14 1L is the perfect choice to maximize the potential of your plants' flowering and fruiting stages. Unlock the full potential of your garden and enjoy the rewards of a bountiful harvest with this premium nutrient solution.