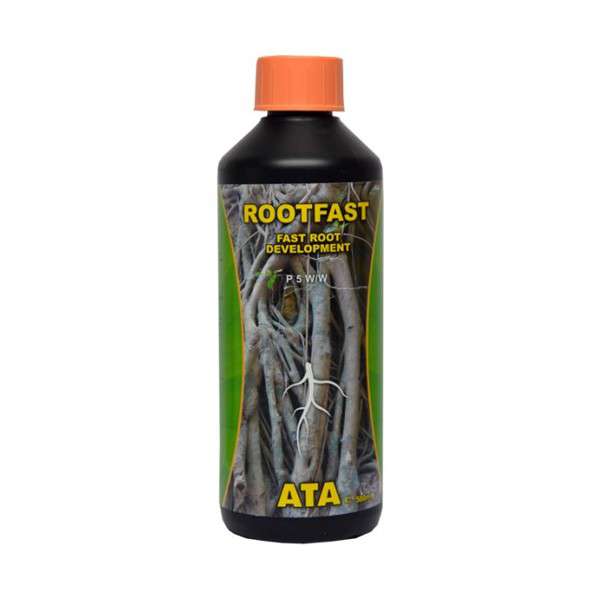 ATA Rootfast is a 100% plant root stimulator that significantly improves the root system and provides excellent plant defense. The fertilizer is rich in essential nutrients NPK (nitrogen, phosphorus, potassium). It is suitable for growing in soil, coconut and hydroponics.
INCREASING RESISTANCE AGAINST DISEASES AND FUNGI
STRONG & HEALTHY ROOTS
HIGH IN PHOSPHOROUS
Atami ATA Rootfast 500ml: Promote Strong and Healthy Root Development
Introducing the Atami ATA Rootfast 500ml, a revolutionary plant supplement designed to enhance root development and promote overall plant health. This powerful formula is specially formulated to provide your plants with the essential nutrients they need during the critical early stages of growth.
With its unique blend of organic compounds and bio-stimulants, ATA Rootfast stimulates root growth, resulting in stronger, healthier plants. The carefully selected ingredients work synergistically to improve nutrient uptake, increase resistance to diseases, and enhance overall plant vigor.
One of the key components of ATA Rootfast is its high concentration of humic and fulvic acids. These natural substances play a vital role in soil fertility and plant nutrition. Humic acids improve soil structure, allowing for better water retention and nutrient absorption. Fulvic acids, on the other hand, enhance nutrient availability by chelating essential minerals and making them more easily absorbed by the roots.
Additionally, ATA Rootfast contains a balanced blend of macro and micronutrients, including nitrogen, phosphorus, and potassium, which are essential for healthy plant growth. These nutrients are carefully formulated to ensure optimal absorption and utilization by the roots, resulting in vigorous root development and robust plant growth.
Using ATA Rootfast is incredibly easy. Simply mix the recommended dosage with water and apply it to your plants during the early stages of growth or transplanting. The concentrated formula ensures that a little goes a long way, making it a cost-effective solution for both hobbyist and professional growers.
One of the standout features of ATA Rootfast is its versatility. It can be used with a wide range of plant species, including ornamentals, vegetables, fruits, and herbs. Whether you are growing plants in soil, coco coir, or hydroponic systems, ATA Rootfast is compatible with all growing mediums, making it a convenient choice for any grower.
Furthermore, ATA Rootfast is suitable for use in both indoor and outdoor gardening. Whether you have a small indoor garden or a large outdoor plot, this product will help you achieve optimal root development and maximize your plant's potential.
When used as directed, ATA Rootfast provides visible results within a short period. You will notice stronger, more extensive root systems, which in turn leads to improved nutrient uptake, increased plant resilience, and ultimately, higher yields.
Investing in Atami ATA Rootfast 500ml is investing in the future of your plants. Give your plants the best start possible and watch them thrive with this exceptional root development supplement. Order your bottle today and experience the difference it can make in your garden!