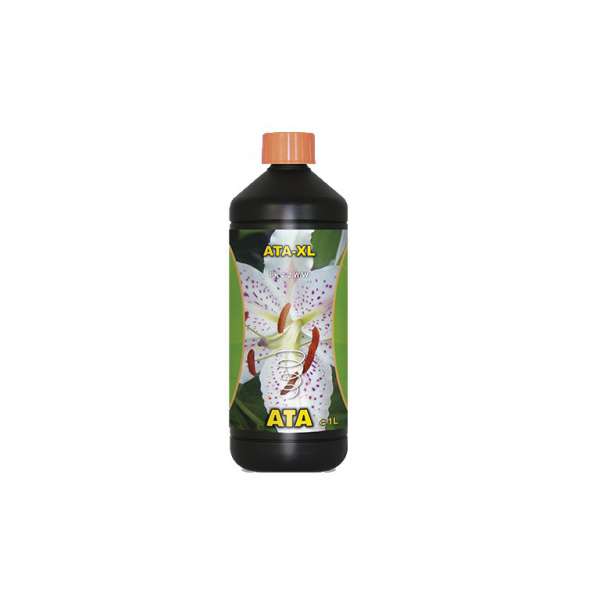 ATA XL is enriched with valuable minerals, vitamins, and amino acids, and provides the plant with all of the trace elements required for healthy, powerful growth both above and below the ground. In the growth phase, ATA XL improves the plant's root structure, which in turn stimulates stronger flower formation in the flowering period.
GROWTH AND BLOOM STIMULATOR IN ONE
STIMULATES THE ROOTHAIRS FOR STRONG ROOTS
CONTAINS HUMIC ACIDs
Atami ATA XL 1L: The Ultimate Plant Nutrient Solution
Introducing the Atami ATA XL 1L, a revolutionary plant nutrient solution designed to maximize the growth and yield of your plants. This powerful formula is packed with essential nutrients and minerals that promote healthy plant development, ensuring robust growth and abundant harvests.
Unleash the Power of Nutrients:
The Atami ATA XL 1L is formulated with a perfect balance of macro and micronutrients, including nitrogen, phosphorus, and potassium, which are essential for plant growth. These nutrients play a vital role in various physiological processes, such as photosynthesis, root development, and flower formation. By providing your plants with the right nutrients in the right proportions, you can enhance their overall health and productivity.
Enhanced Absorption and Utilization:
One of the key features of Atami ATA XL 1L is its advanced formulation that ensures optimal nutrient absorption and utilization by plants. The nutrients are carefully chelated, allowing for easy uptake by the roots. This results in faster and more efficient nutrient assimilation, leading to accelerated growth and improved plant vigor.
Stimulate Root Development:
The Atami ATA XL 1L contains specialized ingredients that stimulate root development, promoting a strong and extensive root system. A healthy root system is crucial for nutrient uptake, water absorption, and overall plant stability. With the ATA XL 1L, you can expect vigorous root growth, enabling your plants to access nutrients and water more effectively.
Boost Flowering and Fruiting:
For those looking to maximize their harvest, the Atami ATA XL 1L is the perfect solution. This nutrient-rich formula is specifically designed to enhance flowering and fruiting stages, ensuring larger, denser, and more flavorful yields. The balanced nutrient composition encourages the production of vibrant flowers and robust fruits, resulting in a bountiful harvest.
Easy to Use:
The Atami ATA XL 1L is incredibly user-friendly, making it suitable for both novice and experienced growers. Simply mix the recommended dosage with water and apply it to your plants during their growth cycle. The convenient liquid form ensures easy application and quick absorption by the plants.
Quality and Reliability:
Atami is a renowned brand in the horticulture industry, known for its commitment to quality and reliability. The ATA XL 1L is no exception, as it is manufactured using premium-grade ingredients and undergoes rigorous quality control measures. This ensures that you receive a consistent and high-quality product that delivers exceptional results.
Conclusion:
When it comes to maximizing plant growth and yield, the Atami ATA XL 1L is the ultimate choice. With its nutrient-rich formulation, enhanced absorption, and stimulation of root development, this plant nutrient solution provides everything your plants need for optimal growth and abundant harvests. Whether you are a hobbyist or a professional grower, the ATA XL 1L is a reliable and effective solution that will take your gardening to the next level.