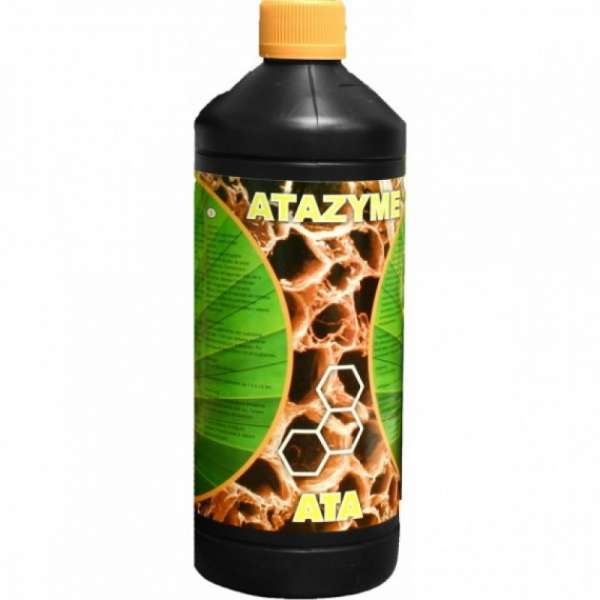 The enzymes contained in Atami Atazyme stimulate the microorganisms in the soil, and support and care for the roots in that the enzymes break down fertiliser deposits in the soil - this keeps the soil free of disease. Furthermore, Atami Atazyme also assists the plant in its nutrient uptake and reduces the risk of overfertilisation.
IMPROVES SOIL LIFE
BREAKS DOWN DEAD ROOT MATERIAL
MAKES THE SUBSTRATE MORE AIRY
Atami Atazyme 1L: The Ultimate Solution for Optimal Plant Health
Introducing Atami Atazyme 1L, the revolutionary plant enzyme formula designed to enhance nutrient absorption, improve root health, and boost overall plant vitality. This cutting-edge product is a must-have for both novice and experienced growers looking to maximize their yields and achieve exceptional plant growth.
Unleash the Power of Enzymes
Atami Atazyme 1L harnesses the power of natural enzymes to break down dead root material, converting it into beneficial nutrients that can be readily absorbed by your plants. By eliminating root debris, this enzymatic formula prevents the accumulation of harmful substances and promotes a clean and healthy root environment.
Enzymes play a crucial role in plant metabolism, facilitating the conversion of complex molecules into simpler forms that can be utilized by the plant. Atami Atazyme 1L contains a carefully balanced blend of enzymes that accelerate nutrient uptake, leading to faster growth, increased resistance to diseases, and improved overall plant health.
The Benefits of Atami Atazyme 1L
1. Enhanced Nutrient Absorption: Atami Atazyme 1L optimizes the availability of essential nutrients, ensuring your plants receive the vital elements they need for robust growth and development. This results in healthier plants with increased resistance to stress and improved nutrient utilization.
2. Improved Root Health: By breaking down dead root material, Atami Atazyme 1L prevents the build-up of harmful pathogens and promotes the growth of beneficial microorganisms. This creates a favorable environment for root development, leading to stronger, more efficient root systems.
3. Increased Yields: With Atami Atazyme 1L, you can expect higher yields and improved crop quality. The enhanced nutrient absorption and healthier root systems translate into bigger, denser flowers, fruits, and vegetables.
4. Easy to Use: Atami Atazyme 1L is a user-friendly product that can be seamlessly integrated into any existing nutrient regimen. Simply add the recommended dosage to your nutrient solution or watering routine, and watch your plants thrive.
How to Use Atami Atazyme 1L
For optimal results, follow these simple steps:
1. Shake the bottle well before use to ensure proper mixing of the enzymes.
2. Add Atami Atazyme 1L to your nutrient solution or watering can at a rate of 2-5 ml per liter of water.
3. Stir or mix thoroughly to ensure even distribution.
4. Apply the solution to your plants as part of your regular watering routine or nutrient feeding schedule.
5. Repeat the application every 1-2 weeks throughout the entire growth cycle for maximum benefits.
Unlock the Full Potential of Your Plants with Atami Atazyme 1L
Whether you're a hobbyist gardener or a commercial cultivator, Atami Atazyme 1L is the key to unlocking the full potential of your plants. Say goodbye to nutrient deficiencies, weak root systems, and lackluster yields. With Atami Atazyme 1L, you can achieve vibrant, healthy plants that produce bountiful harvests. Try it today and experience the difference!