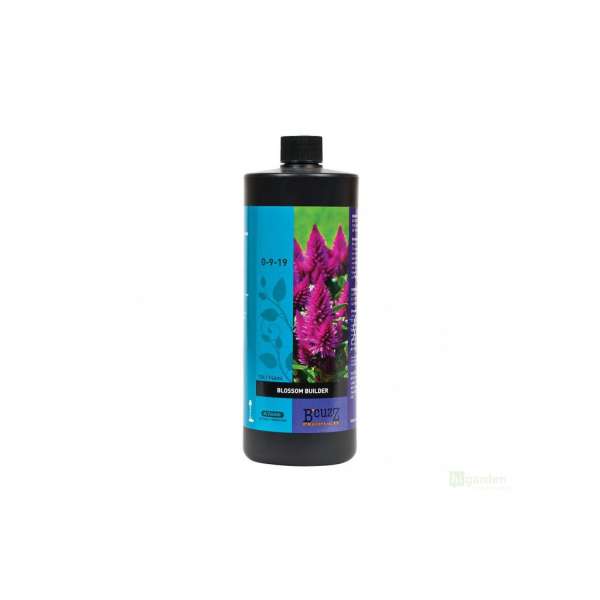 Blossom Builder is a powerful flowering stimulator composed mainly of Phosphorus and Potassium. It is an enhancer that serves to enlarge flowers, it is administered in the last weeks of flowering and maturation of the plants (2-4 weeks before harvest). Blossom Builder is suitable for all substrates, indoor and outdoor, with soil, coco and hydroponics. 
INCREASED YIELD, INCREASED FRUIT SIZE
UNIQUE PK RATIO
HIGHER CONTENT OF SUGARS AND ESSENTIAL OILS
Atami B'cuzz Blossom Builder Liquid 1L
Introducing the Atami B'cuzz Blossom Builder Liquid 1L, a revolutionary plant nutrient solution designed to enhance the flowering and fruiting stages of your plants. This powerful formula is packed with essential nutrients and bio-stimulants that promote vigorous growth, increased flower production, and improved overall plant health.
With its unique blend of high-quality ingredients, the Atami B'cuzz Blossom Builder Liquid 1L provides your plants with everything they need to reach their full potential. The carefully selected nutrients, including phosphorus and potassium, play a crucial role in stimulating flower formation and enhancing the quality and quantity of your harvest.
One of the standout features of this product is its bio-stimulant content. These natural compounds work in harmony with the plant's own biological processes, boosting nutrient uptake, improving root development, and increasing the plant's resistance to stress. This results in stronger, healthier plants that are better equipped to handle environmental challenges.
The Atami B'cuzz Blossom Builder Liquid 1L is incredibly easy to use. Simply add the recommended dosage to your nutrient solution or water and apply it to your plants during the flowering and fruiting stages. The liquid formula ensures quick absorption, allowing the nutrients to be readily available to the plants.
Whether you are a professional grower or a hobbyist, this product is suitable for use in all types of growing systems, including hydroponics, soil, and coco coir. It is compatible with a wide range of plant species, making it a versatile choice for any garden.
When used as directed, the Atami B'cuzz Blossom Builder Liquid 1L can significantly improve the quality and yield of your crops. The increased flower production and enhanced nutrient uptake result in larger, more vibrant blooms and a bountiful harvest.
Furthermore, this product is formulated to be highly concentrated, meaning a little goes a long way. The 1L bottle provides ample supply for multiple applications, making it a cost-effective choice for growers of all sizes.
Invest in the Atami B'cuzz Blossom Builder Liquid 1L and unlock the full potential of your plants. Experience the joy of abundant blooms, healthy fruits, and a thriving garden with this exceptional plant nutrient solution.