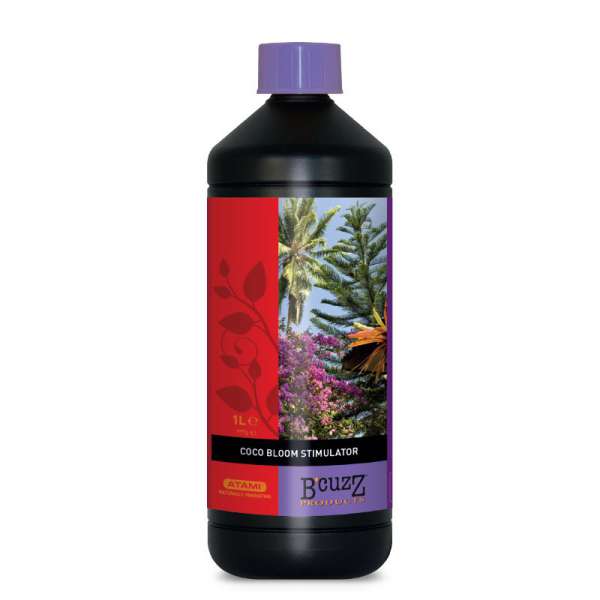 Use this product in your irrigation water from start to finish, in order to grow large, long colas of buds all over your cannabis plants. Thanks to its organic composition, it won't leave any sort of residues in your plants' substrate; it makes for an airy substrate and allows your plants' roots to absorb more nutrients.
LONGER AND MORE INTENSE FLOWERING PERIOD
GREAT SMELL AND TASTE
ESPECIALLY DEVELOPED FOR COCO BASED SUBSTRATES
Atami B'cuzz Coco Bloom Stimulator 1L
Introducing the Atami B'cuzz Coco Bloom Stimulator 1L, a revolutionary product designed to enhance the blooming phase of your plants grown in coco coir. This powerful stimulator is formulated with high-quality ingredients to provide your plants with the essential nutrients they need for vigorous flowering and abundant yields.
With its unique blend of bio-stimulants, vitamins, and minerals, the Atami B'cuzz Coco Bloom Stimulator 1L stimulates the development of strong and healthy flowers. It contains a balanced ratio of phosphorus and potassium, which are crucial for flower formation and overall plant health. The added bio-stimulants improve nutrient uptake and enhance the plant's natural defense mechanisms, resulting in improved resistance to diseases and pests.
One of the key features of this bloom stimulator is its compatibility with coco coir growing media. Coco coir is known for its excellent water retention and aeration properties, but it lacks certain essential nutrients required for optimal flowering. The Atami B'cuzz Coco Bloom Stimulator 1L fills this gap by providing a concentrated source of nutrients specifically tailored for coco coir cultivation.
Using the Atami B'cuzz Coco Bloom Stimulator 1L is incredibly easy. Simply add it to your nutrient solution during the flowering phase, following the recommended dosage. The product is highly concentrated, so a little goes a long way. It is suitable for use in both indoor and outdoor gardens, making it a versatile choice for all types of growers.
When applied as directed, the Atami B'cuzz Coco Bloom Stimulator 1L promotes explosive flower growth, increased resin production, and improved aroma and flavor profiles. Your plants will exhibit vibrant and colorful blooms, with dense and potent buds. The stimulator also enhances the plant's natural sugar production, resulting in sweeter and tastier harvests.
Furthermore, the Atami B'cuzz Coco Bloom Stimulator 1L is designed to be used alongside other Atami B'cuzz products for a comprehensive nutrient regimen. The entire B'cuzz line is carefully formulated to work synergistically, ensuring optimal plant growth and development throughout all stages of growth.
In conclusion, the Atami B'cuzz Coco Bloom Stimulator 1L is a must-have product for any coco coir grower looking to maximize their yields and achieve exceptional flowering results. Its unique blend of nutrients, bio-stimulants, and compatibility with coco coir make it a top choice for professional and hobbyist growers alike. Experience the power of Atami B'cuzz and take your coco coir cultivation to new heights!