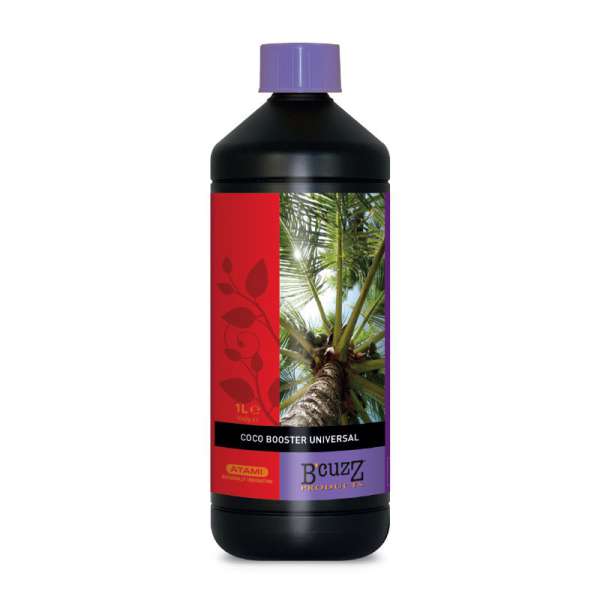 This booster has been especially composed for the cultivation on coco. It has a favourable influence on important micro-organisms and bacteria that give soil life a boost and thus help to improve the condition of the plant. This way it provides extra stability and a biological balance in the substrate, causing the development of the root system to increase.
SUPPORT THE PLANTS WITH ENVIRONMENTAL CHANGES
CONTAINS KEY ELEMENTS FOR CHLOROPHYLL
CAN BE COMBINED WITH OTHER NUTRIENTS OF ATAMI
Atami B'cuzz Coco Booster Universal 1L
Introducing the Atami B'cuzz Coco Booster Universal 1L, a premium plant nutrient solution designed to enhance the growth and development of your plants in coco coir substrates. This powerful formula is specifically tailored to provide all the essential nutrients and minerals required for optimal plant health and vigorous growth.
With its unique composition, the Coco Booster Universal 1L is suitable for use in all stages of plant growth, from seedling to flowering. It acts as a comprehensive supplement, ensuring your plants receive the necessary elements to thrive and produce abundant yields.
The Coco Booster Universal 1L is enriched with high-quality organic ingredients, carefully selected to promote root development, nutrient uptake, and overall plant vitality. It contains a balanced blend of macro and micronutrients, including nitrogen, phosphorus, potassium, calcium, magnesium, and trace elements, all essential for healthy plant growth.
One of the key features of the Coco Booster Universal 1L is its ability to improve the water retention capacity of coco coir substrates. This helps to prevent nutrient leaching and ensures that your plants have access to a consistent supply of water and nutrients, even in dry conditions.
Furthermore, this nutrient solution contains bio-stimulants and natural plant extracts that enhance the plant's immune system, increasing its resistance to diseases, pests, and environmental stressors. This results in stronger, more resilient plants that can withstand adverse conditions and produce higher-quality crops.
The Coco Booster Universal 1L is easy to use, simply mix the recommended dosage with water and apply it to your plants. It is compatible with various irrigation systems, including drip systems, flood and drain systems, and hand-watering methods. The concentrated formula ensures that a little goes a long way, making it a cost-effective solution for both hobbyist and commercial growers.
Whether you are cultivating fruits, vegetables, or flowers, the Atami B'cuzz Coco Booster Universal 1L is a reliable choice for achieving exceptional results. It provides your plants with the necessary nutrients, improves substrate conditions, and boosts overall plant performance. Give your plants the best care they deserve with this exceptional coco coir nutrient solution.