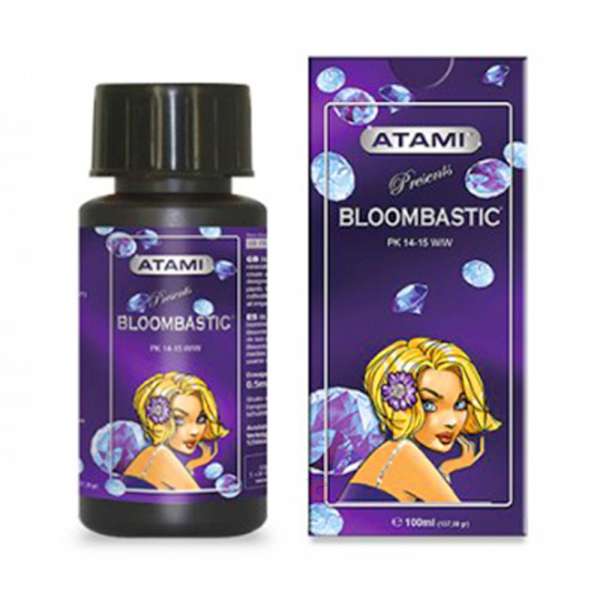 Atami Bloombastic is a unique combination of minerals and stimulators to promote flowering and ripening. It increases the proportion of sugar and affects the taste of the resulting product. Bloombastic also greatly encourages enzymatic processes, helps with stress events (translocations, temperature fluctuations, etc.), making the plant more resistant. This special cocktail does not contain sodium or chlorine.
50% MORE PHOSPHORUS AND POTASSIUM THAN OTHERS
COCKTAIL OF BIO-MINERALS AND BIO-STIMULATORS
INCREASES THE SUGAR CONTENT, WEIGHT & SMELL!
Atami Bloombastic 100ML: The Ultimate Flowering Stimulator for Explosive Blooms
Introducing Atami Bloombastic 100ML, the revolutionary flowering stimulator that guarantees explosive blooms and abundant yields. This powerful formula is designed to enhance the flowering phase of your plants, providing them with the essential nutrients and energy they need to produce larger, denser, and more aromatic flowers.
Unleash the Power of Bloombastic:
Atami Bloombastic 100ML is a carefully crafted blend of high-quality minerals, organic additives, and bio-stimulants that work synergistically to maximize flower production. This unique formula is packed with essential nutrients, including phosphorus and potassium, which are crucial for flower development and overall plant health.
Unparalleled Flower Development:
With Atami Bloombastic 100ML, you can expect unparalleled flower development like never before. This powerful stimulator stimulates the production of essential oils, terpenes, and flavonoids, resulting in flowers that are not only larger and denser but also bursting with intense flavors and aromas.
Increased Nutrient Uptake:
One of the key benefits of Atami Bloombastic 100ML is its ability to enhance nutrient uptake. By improving the plant's ability to absorb and utilize nutrients, this flowering stimulator ensures that your plants receive the optimal amount of nutrition they need to thrive. This leads to healthier plants, stronger root systems, and ultimately, higher yields.
Easy to Use:
Atami Bloombastic 100ML is incredibly easy to use, making it suitable for both novice and experienced growers. Simply add the recommended dosage to your nutrient solution during the flowering phase, and watch as your plants respond with explosive growth and abundant blooms. This concentrated formula ensures that a little goes a long way, providing excellent value for your money.
Compatible with All Growing Systems:
Whether you are growing in soil, hydroponics, or coco coir, Atami Bloombastic 100ML is compatible with all growing systems. Its versatile formulation ensures that it can be seamlessly integrated into any cultivation method, allowing you to achieve exceptional results regardless of your preferred growing medium.
Proven Results:
Atami Bloombastic 100ML has been extensively tested and proven to deliver outstanding results. Countless growers worldwide have experienced the transformative effects of this flowering stimulator, witnessing explosive blooms, increased yields, and overall healthier plants. Join the ranks of successful growers and unlock the full potential of your plants with Atami Bloombastic 100ML.
Conclusion:
Atami Bloombastic 100ML is the ultimate flowering stimulator that guarantees explosive blooms, increased yields, and enhanced flavors and aromas. With its carefully crafted formula, easy application, and compatibility with all growing systems, this product is a must-have for any serious grower. Experience the power of Bloombastic and take your flowering phase to new heights!