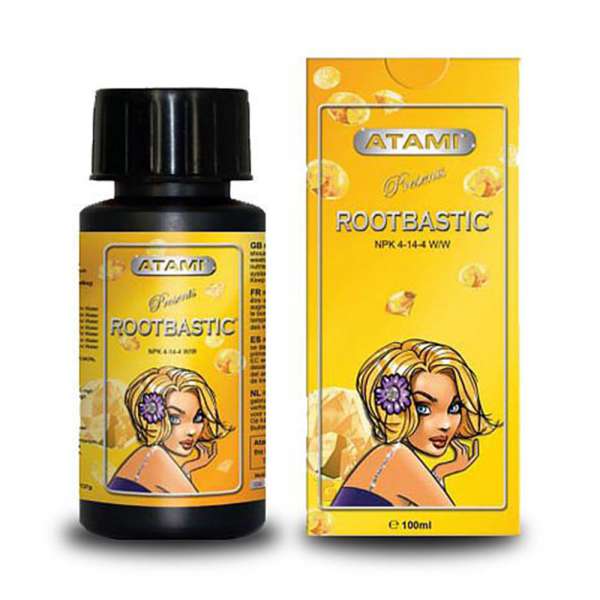 This high quality root stimulant ensures an explosive rootzone development. This means a larger root system and many small capillaries causing the plant to absorb nutrients more easily. Also Atami Rootbastic increases the resistance of the plant which makes it less receptive for environmental stress.
HIGH NPK, BIO STIMULANTS AND BIO-MINERALS
HIGHLY EFFECTIVE THE FIRST 3 WEEKS OF THE GROWTH CYCLE
INCREASES RESISTANCE TO ROOT DISEASE!
Atami Rootbastic 100ML: Boost Your Plant's Root Development
Introducing Atami Rootbastic 100ML, a revolutionary plant supplement designed to enhance root development and maximize overall plant growth. This powerful formula is meticulously crafted to provide your plants with the essential nutrients they need to establish a strong and healthy root system, resulting in vigorous growth and increased yields.
Unleash the Power of Rootbastic:
Atami Rootbastic 100ML is a highly concentrated root stimulator that stimulates explosive root growth, enabling your plants to absorb nutrients more efficiently. This unique blend of bio-stimulants, vitamins, and minerals works synergistically to promote root elongation, branching, and overall root mass development.
Enhanced Nutrient Uptake:
By enhancing the root system, Atami Rootbastic 100ML improves nutrient uptake, ensuring that your plants receive the optimal amount of essential elements for healthy growth. This leads to increased nutrient absorption, improved plant vigor, and ultimately, higher yields.
Improved Stress Resistance:
Rootbastic also strengthens the plant's natural defense mechanisms, making it more resilient to environmental stressors such as drought, disease, and pests. The fortified root system acts as a buffer, providing plants with the necessary resources to withstand adverse conditions and recover quickly.
Easy to Use:
Atami Rootbastic 100ML is incredibly easy to use, making it suitable for both novice and experienced growers. Simply add the recommended dosage to your nutrient solution during the vegetative and early flowering stages, and watch your plants thrive. The concentrated formula ensures that a little goes a long way, providing excellent value for your money.
Compatible with All Growing Systems:
Whether you are growing hydroponically, in soil, or using any other growing system, Atami Rootbastic 100ML is compatible and can be seamlessly integrated into your existing feeding regimen. It is suitable for use in all stages of plant growth, from seedling to harvest.
Proven Results:
Atami Rootbastic 100ML has been extensively tested and proven to deliver exceptional results. Growers worldwide have reported significant improvements in root development, plant health, and overall crop quality. With Rootbastic, you can achieve the lush, vibrant garden you've always dreamed of.
Environmentally Friendly:
Atami Rootbastic 100ML is formulated using high-quality, environmentally friendly ingredients. It is free from harmful chemicals and heavy metals, ensuring the health and safety of your plants, as well as the environment.
Unlock the Full Potential of Your Plants:
Don't let underdeveloped roots limit your plant's potential. With Atami Rootbastic 100ML, you can unlock the full genetic potential of your plants and achieve remarkable growth and yields. Give your plants the boost they deserve and experience the Rootbastic difference today!