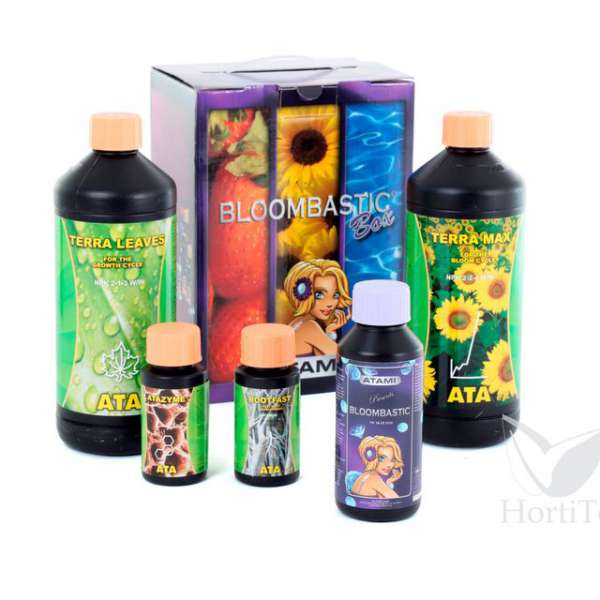 Atami has developed an ATA Organics Bio-Bloombastic for all starting growers with everything on and on. The ATA Organics Bio-Bloombastic is suitable for 1m2 cultivation on soil. Growing is therefore a piece of cake. In combination with the ATA Organics nutrients and supplements, the box gives excellent growth and flowering results.
ATA NRG Box Bio-Bloombastic content:
1 liter of Growth-C
500 ml Flower-C
500 ml Bio-Bloombastic
250 ml Alga-C
250 ml Root-C
1 liter of Growth-C
500 ml Flower-C + 500 ml Bio-Bloombastic
250 ml Alga-C + 250 ml Root-C
Atami Terra Bloombastic Box
Introducing the Atami Terra Bloombastic Box, the ultimate solution for maximizing your plant's blooming potential. This all-in-one kit is designed to provide your plants with everything they need to thrive during the flowering stage, resulting in bigger, denser, and more aromatic blooms.
The Atami Terra Bloombastic Box includes a range of high-quality products that work synergistically to enhance your plant's flowering process. The star of the show is the Bloombastic additive, a powerful blend of bio-minerals and bio-stimulators that stimulates the production of essential oils and sugars in your plants. This leads to an explosion of flowers, increased weight, and improved flavor and aroma.
But the Bloombastic Box doesn't stop there. It also includes Atami's Terra Bloom fertilizer, a premium nutrient formula specifically formulated for the flowering stage. This fertilizer provides your plants with the perfect balance of macro and micronutrients, ensuring they have everything they need to reach their full potential.
In addition to the Bloombastic additive and Terra Bloom fertilizer, the Atami Terra Bloombastic Box also includes Atazyme, a powerful enzyme formula that breaks down dead root material and improves nutrient uptake. This helps to prevent nutrient deficiencies and ensures your plants can absorb all the essential nutrients they need for optimal growth.
Furthermore, the Bloombastic Box includes Rootbastic, a root stimulator that promotes healthy root development and improves nutrient absorption. Strong and healthy roots are essential for supporting the heavy flowering stage, and Rootbastic provides the necessary boost to ensure your plants have a solid foundation.
With the Atami Terra Bloombastic Box, you can expect to see remarkable results in your plants' flowering stage. The combination of Bloombastic, Terra Bloom, Atazyme, and Rootbastic creates the perfect environment for explosive flower production, increased yields, and enhanced aroma and flavor.
Not only does the Atami Terra Bloombastic Box provide exceptional results, but it also offers convenience and ease of use. All the products in the box are carefully selected and formulated to work together seamlessly, taking the guesswork out of plant nutrition. Simply follow the recommended feeding schedule and watch your plants thrive.
Whether you are a beginner or an experienced grower, the Atami Terra Bloombastic Box is a must-have for anyone looking to maximize their plant's blooming potential. Unlock the secret to bigger, denser, and more aromatic blooms with this all-in-one kit. Give your plants the boost they need and experience the difference with the Atami Terra Bloombastic Box.