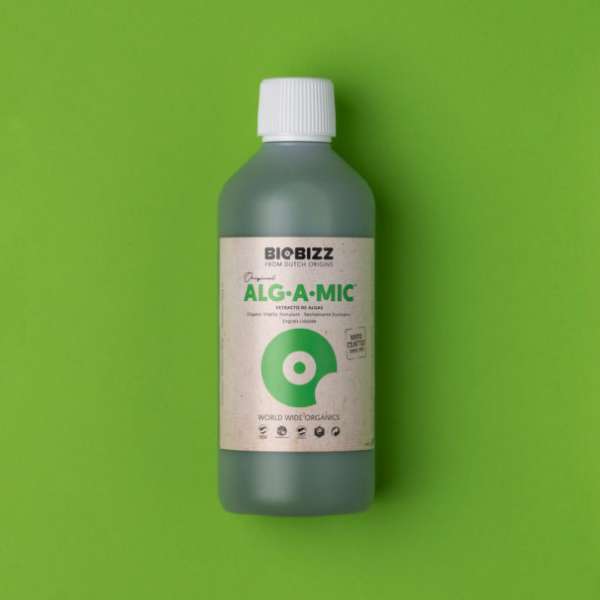 Extracted from cold-spun seaweed, contains high proportions of trace elements, hormones, vitamins, and amino acids, which cover the entire spectrum of the plant's needs. Ensure a rich green leaf colour and makes plants less susceptible to symptoms of stress, such as from temperature fluctuations or environmental influences like draughts or changes in air humidity.
Boosts the vitality of plants
Improves plant health and disease resistance
Can be applied to the soil and to hydroponics
Biobizz ALG A MIC 500ML
Biobizz ALG A MIC 500ML is a high-quality organic plant stimulant that is designed to enhance the growth and health of your plants. It is a concentrated solution made from cold-pressed seaweed, which is rich in natural nutrients and beneficial microorganisms. This product is suitable for use in all types of growing systems, including soil, hydroponics, and coco coir.
One of the key benefits of using Biobizz ALG A MIC is that it stimulates the production of chlorophyll in plants, which is essential for photosynthesis. This leads to increased energy production and improved overall plant health. Additionally, the seaweed extract in this product contains natural hormones that promote root development and enhance nutrient uptake, resulting in stronger and more resilient plants.
Another advantage of using Biobizz ALG A MIC is its ability to improve the plant's resistance to stress factors such as drought, disease, and pests. The organic compounds present in the seaweed extract act as natural protectants, strengthening the plant's immune system and reducing the risk of damage. This makes it an ideal choice for both indoor and outdoor gardening.
Biobizz ALG A MIC is easy to use and can be applied throughout the entire growth cycle of your plants. It can be used as a foliar spray or added directly to the nutrient solution. The recommended dosage is 2-5 ml per liter of water, depending on the stage of growth and the specific needs of your plants.
When used as directed, Biobizz ALG A MIC promotes vigorous growth, improves nutrient absorption, and enhances the overall quality of your plants. It is suitable for use with a wide range of crops, including fruits, vegetables, herbs, and ornamental plants. Whether you are a professional grower or a hobbyist gardener, this product can help you achieve impressive results.
In addition to its effectiveness, Biobizz ALG A MIC is also environmentally friendly. It is made from 100% organic ingredients and does not contain any harmful chemicals or synthetic additives. This makes it safe to use around children, pets, and beneficial insects.
Overall, Biobizz ALG A MIC 500ML is a reliable and effective plant stimulant that can significantly improve the growth and health of your plants. Its organic composition, ease of use, and versatility make it a popular choice among growers worldwide. Give your plants the boost they need with Biobizz ALG A MIC!