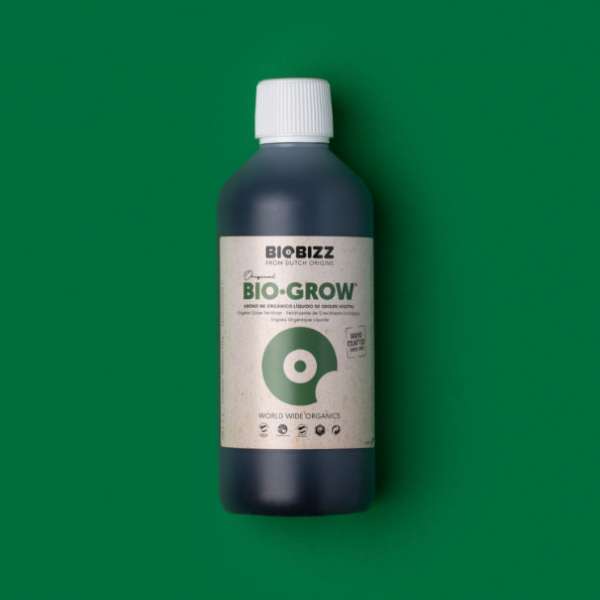 Bio-Grow is a liquid plant food which is ideally suited for all soil substrates. Bio-Grow smells very sweet with all its natural sugars it contains and also provides an ideal relationship with the bacteria present in the soil. Bio-Grow contains 70 microelements, humic acids, kelp and vitamins B1, B2, C and E.
 
100% organic
used with most types of soil and substrate mixtures
can be used throughout the growing and flowering period
Biobizz Bio-Grow 500ML
Biobizz Bio-Grow 500ML is a high-quality organic fertilizer that is specially formulated to provide essential nutrients for plants during the vegetative stage of growth. This product is designed to promote healthy and vigorous plant growth, resulting in stronger roots, lush foliage, and increased overall plant vitality.
Key Features:
1. Organic Formula: Biobizz Bio-Grow 500ML is made from 100% natural and organic ingredients, making it safe for both plants and the environment. It contains a balanced blend of nitrogen, phosphorus, and potassium, along with other essential micronutrients, to support optimal plant growth.
2. Vegetative Stage Support: This fertilizer is specifically formulated to meet the nutritional needs of plants during the vegetative stage. It provides the necessary nutrients for robust root development, strong stem growth, and healthy leaf production.
3. Easy to Use: Biobizz Bio-Grow 500ML is a liquid fertilizer that is ready to use. Simply dilute the recommended amount in water and apply it to your plants. It can be used for both indoor and outdoor plants, including vegetables, herbs, flowers, and ornamentals.
4. Stimulates Microbial Activity: This organic fertilizer contains beneficial microorganisms that enhance soil fertility and promote nutrient uptake by plants. These microorganisms break down organic matter, releasing nutrients in a form that plants can readily absorb.
5. Improves Soil Structure: Regular use of Biobizz Bio-Grow 500ML improves soil structure and promotes a healthy soil ecosystem. It helps to increase water retention, improve aeration, and enhance nutrient availability, resulting in healthier and more productive plants.
6. Environmentally Friendly: Biobizz Bio-Grow 500ML is produced using sustainable and eco-friendly manufacturing practices. It is free from synthetic chemicals and harmful additives, ensuring that it does not harm beneficial insects, pollinators, or the overall ecosystem.
Application:
To use Biobizz Bio-Grow 500ML, simply mix the recommended dosage with water. The exact dosage may vary depending on the type of plant and growth stage. It is generally recommended to use 2-4 ml of fertilizer per liter of water during the vegetative stage. Apply the solution to the soil around the base of the plants, ensuring thorough coverage.
Caution:
While Biobizz Bio-Grow 500ML is safe to use, it is important to follow the recommended dosage and application instructions. Overuse of fertilizer can lead to nutrient imbalances and may harm plants. Store the product in a cool and dry place, away from direct sunlight.
Conclusion:
Biobizz Bio-Grow 500ML is a reliable and effective organic fertilizer that provides essential nutrients for plants during the vegetative stage. Its organic formula, ease of use, and environmentally friendly nature make it a popular choice among both amateur and professional gardeners. By using Biobizz Bio-Grow 500ML, you can ensure healthy and vigorous plant growth, leading to bountiful harvests and beautiful gardens.