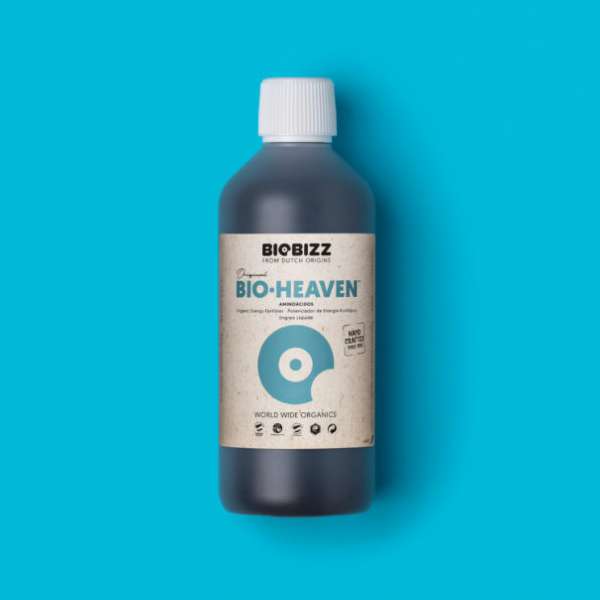 A specially formulated plant energy booster which contains carefully selected biological stimulants, such as amino-acids. Amino-acids are the basic building blocks for proteins and enzymes, which are essential for the plants' structure and metabolism. As a result, Bio·Heaven enhances the utilization and translocation of nutrients in fertilizer blends & foliars and boosts the anti-oxidant system of the plant.
metabolic stimulator
Rapid and complete uptake of the key nutrients
Improves yield and quality of harvest
Biobizz Bio-Heaven 250ML: Enhance Your Plants' Growth and Vitality
Introducing Biobizz Bio-Heaven 250ML, a revolutionary plant energy booster that will take your gardening experience to new heights. This organic-based formula is designed to stimulate and support your plants' growth, ensuring they reach their full potential.
Unleash the Power of Nature
Biobizz Bio-Heaven 250ML harnesses the power of nature to provide your plants with the essential nutrients they need. This unique blend of carefully selected ingredients includes amino acids, enzymes, and other organic compounds that work together to enhance nutrient uptake, improve metabolism, and increase overall plant vitality.
Benefits of Biobizz Bio-Heaven 250ML
When you incorporate Biobizz Bio-Heaven 250ML into your plant care routine, you can expect a wide range of benefits. Firstly, this powerful energy booster stimulates the production of chlorophyll, which is crucial for photosynthesis. As a result, your plants will experience improved nutrient absorption, leading to faster growth and stronger root development.
Additionally, Biobizz Bio-Heaven 250ML enhances the plant's natural defense mechanisms, making it more resistant to diseases, pests, and environmental stressors. This means you can enjoy healthier, more resilient plants that can withstand various challenges.
Easy to Use
Using Biobizz Bio-Heaven 250ML is a breeze. Simply add the recommended dosage to your nutrient solution or foliar spray, and watch as your plants thrive. This versatile product can be used in all stages of plant growth, from seedlings to mature plants, making it suitable for a wide range of gardening applications.
Environmentally Friendly
Biobizz Bio-Heaven 250ML is not only beneficial for your plants but also for the environment. This organic formula is made from natural ingredients, ensuring that no harmful chemicals are introduced into your garden. By choosing Biobizz Bio-Heaven 250ML, you are making a conscious decision to support sustainable and eco-friendly gardening practices.
Compatibility and Safety
Biobizz Bio-Heaven 250ML is compatible with all types of growing media, including soil, coco coir, and hydroponic systems. It can be used alongside other Biobizz products or as part of your existing nutrient regimen. Rest assured, this product is safe for both indoor and outdoor use, so you can enjoy its benefits regardless of your gardening setup.
Experience the Difference with Biobizz Bio-Heaven 250ML
When you choose Biobizz Bio-Heaven 250ML, you are investing in the health and vitality of your plants. Experience the difference this plant energy booster can make in your garden. Unlock the full potential of your plants and enjoy bountiful harvests with Biobizz Bio-Heaven 250ML.