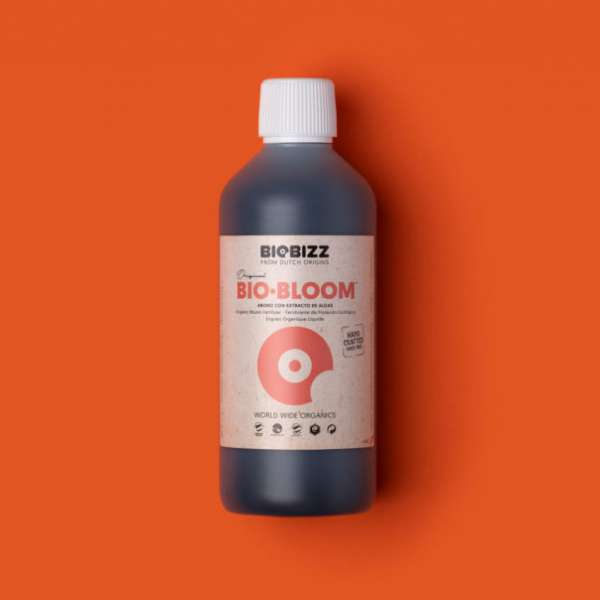 A complete liquid organic fertilizer which contains a small amount of nitrogen and enough phosphorous and potassium to ensure exuberant flowering. Trace elements and hormones of vegetable origin are also added to improve the flowering process. Bio·Bloom also contains enzymes and amino acids, which work in harmony with the soil to promote flowering and fruit production.
100% Organic
strong-stemmed and vigorous flowering plant
optimum blend of nitrogen, phosphorous and potassium
Biobizz Bio·Bloom 1L
Biobizz Bio·Bloom 1L is a premium organic liquid fertilizer specifically designed to enhance the flowering and fruiting stages of plants. This high-quality product is part of the Biobizz range, which is renowned for its commitment to sustainable and eco-friendly gardening practices.
One of the key features of Biobizz Bio·Bloom 1L is its organic composition. It is made from 100% natural ingredients, including Dutch sugar beet extract, potassium, and phosphorus. These essential nutrients are carefully balanced to provide optimal nutrition for plants during the crucial flowering and fruiting phases.
Using Biobizz Bio·Bloom 1L is incredibly easy. Simply mix the recommended dosage with water and apply it to your plants. This liquid fertilizer is suitable for use in all types of growing systems, including soil, coco, and hydroponics. It can be used both indoors and outdoors, making it a versatile choice for all gardeners.
What sets Biobizz Bio·Bloom 1L apart from other fertilizers is its ability to promote abundant flowering and fruiting. The carefully selected ingredients work together to stimulate the natural processes within plants, resulting in larger, more vibrant flowers and fruits. This product also enhances the flavor and aroma of the final harvest, ensuring a truly satisfying gardening experience.
Another advantage of Biobizz Bio·Bloom 1L is its eco-friendly nature. Biobizz is committed to sustainable agriculture and uses only natural and organic ingredients in their products. This means that you can use Bio·Bloom 1L with confidence, knowing that you are not harming the environment or introducing harmful chemicals into your garden.
Furthermore, Biobizz Bio·Bloom 1L is suitable for use in both indoor and outdoor gardens. Whether you have a small balcony garden or a large-scale commercial operation, this liquid fertilizer can help you achieve impressive results. It is compatible with a wide range of plant species, including flowers, fruits, vegetables, and herbs.
When using Biobizz Bio·Bloom 1L, it is important to follow the recommended dosage instructions. Over-fertilization can be detrimental to plants, so it is crucial to use the correct amount. The packaging provides clear guidelines on how much to use, depending on the stage of growth and the size of your plants.
In summary, Biobizz Bio·Bloom 1L is a premium organic liquid fertilizer that is specifically formulated to enhance the flowering and fruiting stages of plants. Its organic composition, ease of use, and ability to promote abundant and flavorful harvests make it a top choice for both amateur and professional gardeners. With Biobizz Bio·Bloom 1L, you can nourish your plants while also protecting the environment.