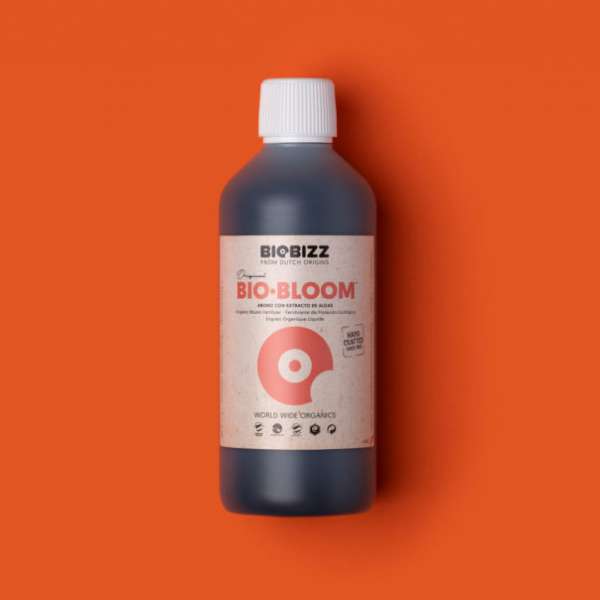 A complete liquid organic fertilizer which contains a small amount of nitrogen and enough phosphorous and potassium to ensure exuberant flowering. Trace elements and hormones of vegetable origin are also added to improve the flowering process. Bio·Bloom also contains enzymes and amino acids, which work in harmony with the soil to promote flowering and fruit production.
100% Organic
strong-stemmed and vigorous flowering plant
optimum blend of nitrogen, phosphorous and potassium
Biobizz Bio·Bloom 500ML: The Ultimate Organic Nutrient Solution for Thriving Plants
Introducing Biobizz Bio·Bloom 500ML, the revolutionary organic nutrient solution that will take your plants to new heights of health and vitality. Designed to meet the specific needs of flowering and fruiting plants, this powerful formula provides everything your plants need to flourish and produce abundant, high-quality yields.
Biobizz Bio·Bloom 500ML is a carefully crafted blend of natural ingredients, including earthworm castings, seaweed, and other organic components. These ingredients work synergistically to create a nutrient-rich environment that promotes vigorous growth, strong root development, and robust flowering.
One of the key features of Biobizz Bio·Bloom 500ML is its ability to stimulate the production of essential oils and sugars in plants. This results in enhanced flavor, aroma, and overall quality of your harvest. Whether you are growing fruits, vegetables, or flowers, this nutrient solution will help you achieve exceptional results.
What sets Biobizz Bio·Bloom 500ML apart from other nutrient solutions on the market is its commitment to sustainability and environmental responsibility. All ingredients used in the formula are 100% organic and sourced from renewable resources. This means that not only are you providing your plants with the best possible nutrition, but you are also minimizing your impact on the planet.
Using Biobizz Bio·Bloom 500ML is incredibly easy. Simply mix the recommended dosage with water and apply it to your plants during the flowering and fruiting stages. The formula is designed to be used in both soil and hydroponic systems, making it versatile and suitable for a wide range of growing methods.
When using Biobizz Bio·Bloom 500ML, you can expect to see noticeable improvements in plant health and vitality. Your plants will develop strong, sturdy stems, lush green foliage, and vibrant, colorful flowers or fruits. Additionally, the enhanced nutrient uptake provided by this formula will help your plants resist diseases and pests, ensuring a successful and bountiful harvest.
Biobizz Bio·Bloom 500ML is trusted by professional growers and hobbyists alike for its consistent and reliable results. Whether you are a seasoned gardener or just starting out, this nutrient solution will help you achieve the best possible outcomes.
In conclusion, Biobizz Bio·Bloom 500ML is the ultimate organic nutrient solution for thriving plants. With its carefully selected blend of natural ingredients, commitment to sustainability, and ease of use, it is the go-to choice for growers who want to maximize the health and productivity of their plants. Give your plants the nutrition they deserve and experience the difference with Biobizz Bio·Bloom 500ML.