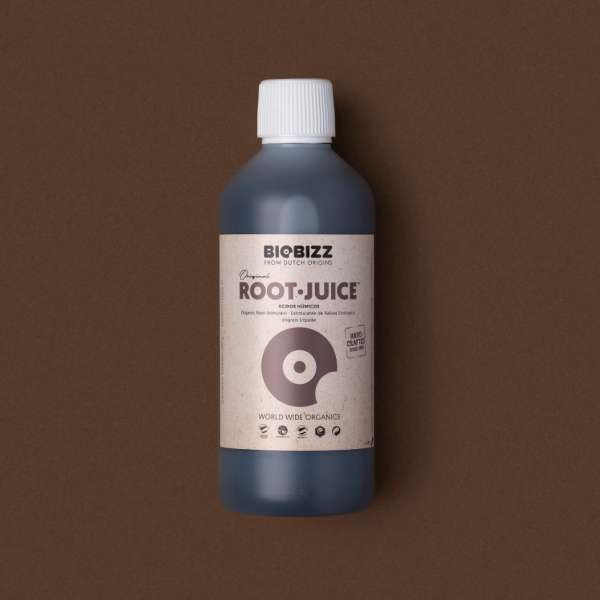 BioBizz Root Juice is a unique blend of ingredients specifically designed for organic gardening. Combining two natural substances, humic acid and seaweed. Formulated to encourage vigorous root development and enrich the natural biological life that encompasses and supports your plant's root-zone.
encourage vigorous root development
Accelerates the absorption of nutrients
More disease resistant plants
Biobizz Root Juice 250ML: Enhance Your Plant's Root Development
Introducing Biobizz Root Juice 250ML, a revolutionary organic plant supplement designed to stimulate and enhance the root development of your plants. This powerful formula is packed with essential nutrients and natural ingredients that promote healthy root growth, leading to stronger and more resilient plants.
Roots are the foundation of any plant, responsible for nutrient absorption, water uptake, and overall plant health. Biobizz Root Juice provides the perfect blend of organic ingredients to support and nourish your plant's root system, ensuring optimal growth and vitality.
One of the key ingredients in Biobizz Root Juice is humic acid, a natural compound derived from decomposed organic matter. Humic acid acts as a chelating agent, helping plants absorb nutrients more efficiently. It also improves soil structure, allowing for better aeration and water retention.
In addition to humic acid, Biobizz Root Juice contains seaweed extracts, which are rich in trace minerals and growth-promoting hormones. These extracts stimulate root growth and enhance nutrient uptake, resulting in healthier and more productive plants.
Unlike synthetic fertilizers, Biobizz Root Juice is made from 100% organic ingredients, making it safe for both your plants and the environment. It is free from harmful chemicals and additives, ensuring that your plants receive only the purest and most natural nutrients.
Biobizz Root Juice is easy to use, simply mix the recommended dosage with water and apply it to your plants during the vegetative stage. The concentrated formula ensures that a little goes a long way, providing excellent value for money.
Whether you are a beginner or an experienced gardener, Biobizz Root Juice is a must-have product for anyone looking to maximize their plant's root development. It is suitable for use in all types of growing systems, including soil, coco coir, and hydroponics.
With regular use of Biobizz Root Juice, you can expect to see a significant improvement in your plant's overall health and vigor. Stronger roots mean better nutrient uptake, increased resistance to diseases and pests, and ultimately, higher yields.
So why wait? Give your plants the boost they need with Biobizz Root Juice 250ML. Experience the difference in root development and witness the incredible results in your garden or indoor grow space. Order your bottle today and unlock the full potential of your plants!