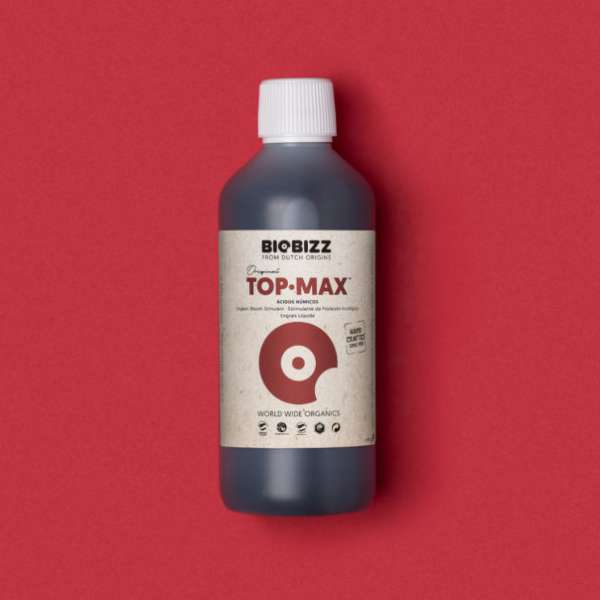 A 100% organic flowering strengthener which has the threefold purpose of dramatically increasing the actual size and weight of clusters of flowers, leaving a sweet, smooth taste in the finished product and facilitating the uptake of nutrients by the plants. It has been especially developed for use in combination with Biobizz soil mixtures.
100% organic
stimulates plant's metabolism
boosts the energy in old plant cells
Biobizz Top-Max 1L: Enhance Your Plant's Growth and Yield
Biobizz Top-Max 1L is a premium organic bloom stimulator that is specially formulated to boost the growth and yield of your plants. This powerful plant enhancer is designed to be used during the flowering phase, providing your plants with the essential nutrients they need to thrive and produce abundant, high-quality crops.
One of the key features of Biobizz Top-Max 1L is its organic composition. It is made from 100% natural ingredients, including humic acids, fulvic acids, and seaweed extracts. These organic compounds work together to stimulate the plant's metabolism, resulting in increased nutrient uptake and improved overall plant health.
When used as directed, Biobizz Top-Max 1L can significantly enhance the development of flowers and fruits. It promotes the formation of essential oils, sugars, and vitamins, which are crucial for the plant's growth and flavor. This bloom stimulator also helps to improve the plant's resistance to diseases and pests, ensuring a healthier and more robust crop.
Biobizz Top-Max 1L is easy to use and suitable for all types of plants, including fruits, vegetables, herbs, and flowers. Simply add the recommended dosage to your nutrient solution or water and apply it to your plants during the flowering phase. The product is compatible with all soil mixtures and can be used in both indoor and outdoor gardening.
One of the advantages of using Biobizz Top-Max 1L is its compatibility with other Biobizz products. It can be used in combination with Biobizz base nutrients, such as Biobizz Bio-Grow and Biobizz Bio-Bloom, to create a comprehensive feeding program for your plants. This ensures that your plants receive a balanced and complete range of nutrients throughout their growth cycle.
Furthermore, Biobizz Top-Max 1L is environmentally friendly and sustainable. It is produced using eco-friendly manufacturing processes and does not contain any harmful chemicals or synthetic additives. This makes it safe for both the environment and the end consumer.
In conclusion, Biobizz Top-Max 1L is a highly effective bloom stimulator that can significantly improve the growth and yield of your plants. Its organic composition, compatibility with other Biobizz products, and eco-friendly nature make it an excellent choice for both professional and hobbyist gardeners. Give your plants the boost they need with Biobizz Top-Max 1L and enjoy bountiful harvests of healthy and flavorful crops.