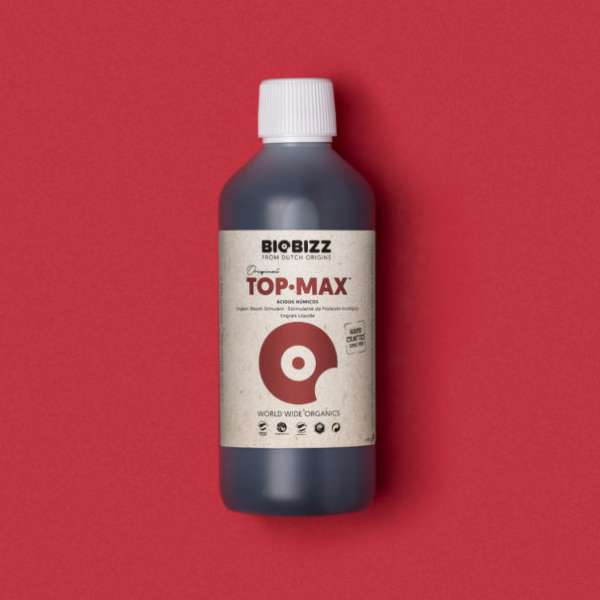 A 100% organic flowering strengthener which has the threefold purpose of dramatically increasing the actual size and weight of clusters of flowers, leaving a sweet, smooth taste in the finished product and facilitating the uptake of nutrients by the plants. It has been especially developed for use in combination with Biobizz soil mixtures.
100% organic
stimulates plant's metabolism
boosts the energy in old plant cells
Biobizz Top-Max 500ML: Enhance Your Plant Growth and Yield
Biobizz Top-Max 500ML is a premium organic bloom stimulator that is specially formulated to boost the flowering and fruiting stages of your plants. This powerful product is designed to enhance the natural processes within your plants, resulting in increased yields, improved taste, and overall healthier plants.
With Biobizz Top-Max 500ML, you can expect to see significant improvements in your plant's growth and development. This organic bloom stimulator contains a unique blend of high-quality ingredients, including humic acids, fulvic acids, and seaweed extracts. These natural compounds work together to stimulate the production of essential hormones and enzymes in your plants, promoting vigorous flowering and fruiting.
One of the key benefits of using Biobizz Top-Max 500ML is its ability to increase nutrient uptake in your plants. The humic and fulvic acids present in this product act as natural chelators, helping to improve the availability and absorption of essential nutrients. This means that your plants can efficiently utilize the nutrients present in your growing medium, resulting in healthier and more productive plants.
Another advantage of Biobizz Top-Max 500ML is its ability to improve the quality and taste of your harvest. By enhancing the natural processes within your plants, this bloom stimulator helps to maximize the production of essential oils, sugars, and other compounds that contribute to the flavor and aroma of your crops. This means that you can enjoy a more flavorful and aromatic harvest, whether you are growing fruits, vegetables, or flowers.
Biobizz Top-Max 500ML is incredibly easy to use, making it suitable for both beginner and experienced growers. Simply add the recommended dosage to your nutrient solution during the flowering and fruiting stages of your plants. This product is compatible with all types of growing media, including soil, coco coir, and hydroponic systems.
When using Biobizz Top-Max 500ML, it is important to follow the recommended dosage instructions provided by the manufacturer. Overdosing can lead to nutrient imbalances and potential damage to your plants. It is also advisable to regularly monitor your plants' progress and adjust the dosage accordingly to ensure optimal results.
Overall, Biobizz Top-Max 500ML is a highly effective bloom stimulator that can significantly enhance the growth, yield, and quality of your plants. With its organic formulation and easy application, this product is a must-have for any gardener looking to maximize their harvest. Experience the power of Biobizz Top-Max 500ML and enjoy the bountiful rewards of healthy and thriving plants.