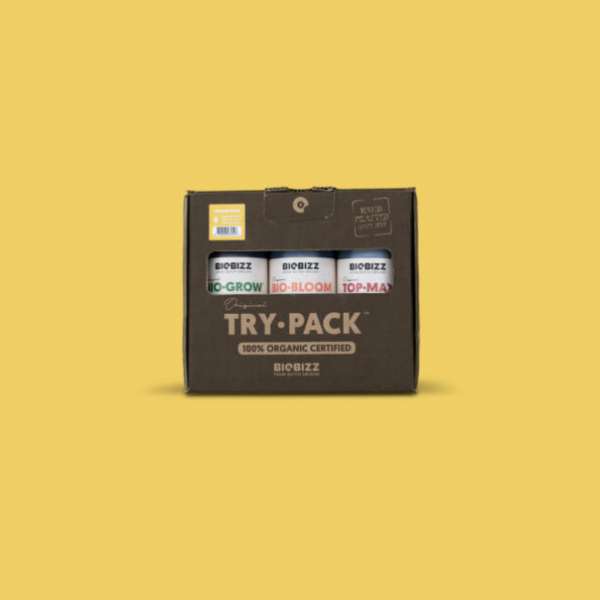 Biobizz Indoor·Pack joins the four members of recently launched Try·Pack family and makes it simple to gain growing experience using the Biobizz range of organic fertilizers.Designed to be easy to handle, it can also be combined with any other Biobizz products or Try·Packs to maximise your crop and minimise costs.
Provides basic feeding for 1-4 plants
ensures exuberant flowers and fruit sets
increases the size and weight of clusters on flowers
Biobizz Try-pack Indoor: The Ultimate Solution for Indoor Gardening
Are you an indoor gardening enthusiast looking for the perfect solution to enhance the growth and vitality of your plants? Look no further than the Biobizz Try-pack Indoor. This comprehensive pack is specifically designed to meet the unique needs of indoor plants, providing them with the essential nutrients and care they require for optimal growth and health.
Biobizz Try-pack Indoor is a carefully curated collection of three premium products: Bio-Grow, Bio-Bloom, and Top-Max. Each of these products plays a vital role in ensuring your indoor plants receive the perfect balance of nutrients, promoting vigorous growth, abundant flowering, and increased yields.
Bio-Grow: Nurturing Growth from the Roots
The first component of the Biobizz Try-pack Indoor is Bio-Grow. This organic fertilizer is formulated to provide your plants with the necessary nutrients for healthy root development and overall growth. Its rich blend of nitrogen, phosphorus, and potassium, along with essential micronutrients, ensures that your plants receive a balanced diet, resulting in strong and vibrant foliage.
What sets Bio-Grow apart is its 100% organic composition. It harnesses the power of natural ingredients, such as Dutch sugar beet extract, to stimulate microbial activity in the soil, promoting nutrient absorption and root health. This organic approach not only benefits your plants but also contributes to the overall sustainability of your indoor gardening practices.
Bio-Bloom: Unleashing the Power of Flowering
The second component of the Biobizz Try-pack Indoor is Bio-Bloom. As the name suggests, this organic fertilizer is specifically designed to enhance the flowering phase of your indoor plants. It contains a unique blend of nutrients, including phosphorus, potassium, and amino acids, which are essential for robust flower development and increased bud production.
By incorporating Bio-Bloom into your indoor gardening routine, you can expect to witness a spectacular display of blooms and enjoy the delightful aromas that fill your space. This organic formula not only promotes flowering but also improves the overall quality and taste of your harvest, ensuring a truly rewarding indoor gardening experience.
Top-Max: Unlocking the Full Potential
The final component of the Biobizz Try-pack Indoor is Top-Max. This organic bloom stimulant is designed to maximize the size, weight, and potency of your indoor plants' flowers. It contains a blend of humic acids and other natural ingredients that stimulate the production of essential oils and sugars, resulting in larger and denser buds.
By incorporating Top-Max into your indoor gardening routine, you can take your harvest to the next level. This powerful bloom stimulant not only enhances the visual appeal of your plants but also increases their medicinal or recreational value. With Top-Max, you can unlock the full potential of your indoor garden and enjoy the fruits of your labor.
Conclusion: Elevate Your Indoor Gardening Experience with Biobizz Try-pack Indoor
The Biobizz Try-pack Indoor is the ultimate solution for indoor gardening enthusiasts who seek to provide their plants with the best possible care. With its carefully selected components, including Bio-Grow, Bio-Bloom, and Top-Max, this pack offers a comprehensive approach to plant nutrition and growth.
By incorporating the Biobizz Try-pack Indoor into your indoor gardening routine, you can expect to witness remarkable results. From vigorous growth and abundant flowering to increased yields and enhanced flavors, this pack has it all. Elevate your indoor gardening experience and achieve the garden of your dreams with Biobizz Try-pack Indoor.