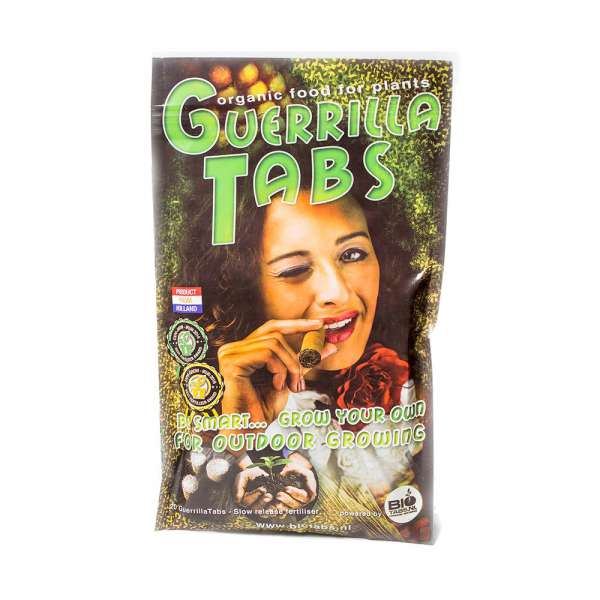 Guerrilla tabs are organic fertilizer tablets that improve the microbiological activity in the soil, creating the optimal conditions for growing big and healthy plants.The main advantage to Guerrilla tabs, especially for outdoor growers, is the slow-release characteristic. After the initial set-up you don't have to check on your plants every day, nor do you need to measure EC or pH levels.
100% organic fertilizer
Enhances the biological activity of the soil
and feeds the plants at the same time
BIOTabs Guerrilla Tabs
Introducing the revolutionary BIOTabs Guerrilla Tabs, the ultimate solution for organic gardening enthusiasts. These innovative tablets are designed to provide your plants with all the essential nutrients they need to thrive, ensuring healthy growth and abundant yields. With BIOTabs Guerrilla Tabs, you can achieve exceptional results while minimizing the use of synthetic fertilizers and harmful chemicals.
Unleash the Power of Nature
BIOTabs Guerrilla Tabs harness the power of nature to create a sustainable and eco-friendly gardening experience. Each tablet is packed with a carefully balanced blend of organic ingredients, including beneficial bacteria, fungi, and essential nutrients. These ingredients work together to promote soil health, enhance nutrient uptake, and improve plant resilience.
By using BIOTabs Guerrilla Tabs, you can create a thriving ecosystem in your garden, where beneficial microorganisms flourish and support the growth of your plants. This natural approach not only improves the overall health of your garden but also contributes to the preservation of the environment.
Easy to Use
BIOTabs Guerrilla Tabs are incredibly easy to use, making them suitable for both novice and experienced gardeners. Simply place the tablets in the soil near the roots of your plants, and let nature take its course. The tablets slowly release nutrients over time, ensuring a steady supply of essential elements for your plants.
Unlike traditional fertilizers that require frequent application and careful measurements, BIOTabs Guerrilla Tabs provide a hassle-free solution. With these tablets, you can save time and effort while still achieving outstanding results.
Benefits of BIOTabs Guerrilla Tabs
1. Organic and Sustainable: BIOTabs Guerrilla Tabs are made from 100% organic ingredients, making them safe for the environment and your plants. By choosing these tablets, you contribute to a more sustainable gardening practice.
2. Enhanced Nutrient Uptake: The beneficial microorganisms in BIOTabs Guerrilla Tabs improve nutrient availability and uptake, ensuring your plants receive the essential elements they need for optimal growth.
3. Improved Soil Health: The organic ingredients in these tablets promote soil health by increasing microbial activity and improving soil structure. This leads to better water retention, aeration, and nutrient cycling.
4. Increased Plant Resilience: The beneficial bacteria and fungi in BIOTabs Guerrilla Tabs help strengthen the plant's immune system, making them more resistant to diseases, pests, and environmental stressors.
5. Cost-Effective: With BIOTabs Guerrilla Tabs, you can reduce your reliance on expensive synthetic fertilizers and other chemical additives. These tablets provide a cost-effective solution for long-term plant nutrition.
Unlock the Full Potential of Your Garden
Whether you are growing vegetables, herbs, flowers, or fruits, BIOTabs Guerrilla Tabs are the perfect companion for your garden. Experience the joy of organic gardening and witness the remarkable transformation of your plants. With BIOTabs Guerrilla Tabs, you can unlock the full potential of your garden and enjoy bountiful harvests year after year.