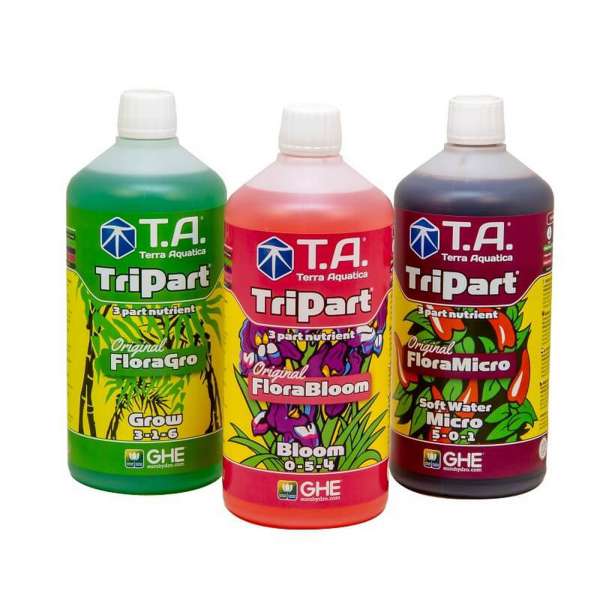 Terra Aquatica by GHE Tripack Flora is a product from the Flora series which includes a classic mineral fertiliser, developed by a research team whose aim was to introduce a fertiliser to the market that fulfils all of a plant's needs, and is completely flexible in its application, according to the development phase and the individual needs of the plant.
provides the plant all the necessary micro-elements
promotes a lush structural and foliar growth.
ensures particularly rapid growth
GHE Tripack Flora (Terra Aquatica)
GHE Tripack Flora, also known as Terra Aquatica, is a comprehensive nutrient system designed to optimize plant growth and maximize yields. This innovative product is specifically formulated to provide plants with all the essential nutrients they need throughout their entire life cycle, from seedling to harvest.
The GHE Tripack Flora consists of three key components:
1. FloraGro:
FloraGro is the first component of the Tripack Flora system. It is a nutrient-rich base that promotes healthy vegetative growth. This formula contains a balanced blend of primary, secondary, and micronutrients, as well as essential minerals and trace elements. FloraGro provides plants with the necessary building blocks for strong roots, sturdy stems, and lush foliage.
2. FloraBloom:
The second component, FloraBloom, is a specialized formula designed to enhance flowering and fruiting. It contains a unique blend of nutrients that stimulate the production of essential oils, resins, and sugars, resulting in bigger, denser buds and sweeter, more flavorful fruits. FloraBloom also helps plants develop strong, healthy roots and improves nutrient uptake, ensuring optimal nutrient absorption and utilization.
3. FloraMicro:
The third component, FloraMicro, is a versatile nutrient formula that provides plants with a complete range of essential elements. It contains a precise balance of macronutrients and micronutrients, including nitrogen, phosphorus, potassium, calcium, magnesium, and iron. FloraMicro is designed to be used throughout the entire growth cycle and can be customized to meet the specific needs of different plant varieties and growing conditions.
Why choose GHE Tripack Flora?
GHE Tripack Flora offers several advantages over traditional nutrient systems. Firstly, it is a highly concentrated formula, meaning that a little goes a long way. This makes it cost-effective and ensures that plants receive the optimal amount of nutrients without the risk of overfeeding. Additionally, the Tripack Flora system is easy to use and suitable for both beginner and experienced growers.
Another key benefit of GHE Tripack Flora is its versatility. The three components can be used individually or in combination, allowing growers to tailor the nutrient solution to the specific needs of their plants. This flexibility makes it suitable for a wide range of crops, including fruits, vegetables, herbs, and ornamental plants.
GHE Tripack Flora is also known for its exceptional quality and consistency. The nutrients are carefully sourced and formulated using advanced scientific techniques to ensure maximum purity and effectiveness. The product undergoes rigorous quality control measures to guarantee consistent results and optimal plant performance.
How to use GHE Tripack Flora:
GHE Tripack Flora is designed to be used in hydroponic systems, soilless mixes, and soil-based growing mediums. The recommended dosage and application method may vary depending on the specific plant variety and growth stage. It is important to follow the instructions provided by the manufacturer for best results.
In conclusion, GHE Tripack Flora (Terra Aquatica) is a comprehensive nutrient system that provides plants with all the essential elements they need for healthy growth and abundant yields. With its three key components, FloraGro, FloraBloom, and FloraMicro, this innovative product offers versatility, cost-effectiveness, and exceptional quality. Whether you are a beginner or an experienced grower, GHE Tripack Flora is a reliable choice for achieving optimal plant performance and maximizing your harvest.