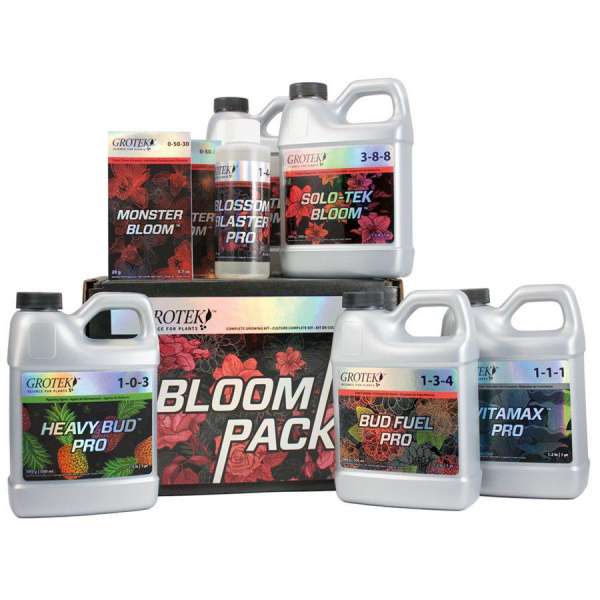 ALL-IN-ONE BLOOM KIT 
The Grotek Bloom Pack is the all-in-one kit you need for blooming. Add the high-powered, highly concentrated products in our kit to your bloom cycle, and experience Grotek's monster yield program. Included is our easy-to-use feed chart that will simplify how to use these products throughout the blooming stage.
Bud Fuel Pro 500ML + Heavy Bud Pro 500ML
Vitamax Pro 500ML+ Monster Bloom 20g (x2)
Blossom Blaster Pro 125ML + Solo-Tek Blossom 500ML (x2)
GROTEK Bloom Pack: Unlock the Full Potential of Your Plants
GROTEK Bloom Pack is a revolutionary plant nutrient system designed to enhance the growth and blooming stages of your plants. This comprehensive pack contains a range of high-quality fertilizers and supplements that work synergistically to provide your plants with the essential nutrients they need for optimal development and abundant flowering.
Unleash Explosive Blooms:
The GROTEK Bloom Pack is specifically formulated to maximize flower production and promote vigorous growth. It consists of three key components: Bloom Fuel, Monster Bloom, and Blossom Blaster. Each product plays a vital role in different stages of the flowering process, ensuring your plants reach their full potential.
Bloom Fuel:
Bloom Fuel is a powerful bloom enhancer that stimulates flower formation and increases the size and weight of your blooms. It contains a unique blend of phosphorus, potassium, and other essential micronutrients that are crucial for flower development. By providing your plants with the right balance of nutrients, Bloom Fuel helps to improve flower quality, aroma, and overall yield.
Monster Bloom:
Monster Bloom is a high-performance bloom booster that supercharges your plants' flowering phase. Packed with a concentrated blend of phosphorus and potassium, Monster Bloom promotes explosive bud development, leading to larger, denser, and more potent flowers. This potent formula also enhances the plant's natural defense mechanisms, resulting in healthier and more resilient plants.
Blossom Blaster:
Blossom Blaster is a unique early-flowering stimulant that kickstarts the blooming process and accelerates flower formation. It contains a specialized blend of phosphorus, potassium, and other essential nutrients that trigger the plant's reproductive system, encouraging early and abundant flowering. Blossom Blaster also enhances nutrient uptake, ensuring your plants receive the maximum benefit from the nutrients provided.
Unparalleled Benefits:
The GROTEK Bloom Pack offers numerous benefits that make it a must-have for both novice and experienced growers:
1. Enhanced Flowering: The carefully balanced nutrient ratios in the Bloom Pack promote prolific flower production, resulting in bigger, more vibrant blooms.
2. Increased Yield: By providing your plants with the essential nutrients they need during the flowering stage, the Bloom Pack helps maximize your overall yield.
3. Improved Aroma and Flavor: The unique blend of nutrients in the Bloom Pack enhances the aromatic compounds and flavors of your flowers, resulting in a more enjoyable and potent end product.
4. Easy to Use: The GROTEK Bloom Pack is designed for simplicity and convenience. The products come in user-friendly packaging with clear instructions, making it easy for growers of all levels to achieve outstanding results.
5. Versatile Application: The Bloom Pack is suitable for use in various growing mediums, including soil, hydroponics, and coco coir. It can be used in both indoor and outdoor cultivation, making it a versatile choice for any grower.
6. Sustainable and Environmentally Friendly: GROTEK is committed to sustainability and environmental responsibility. The Bloom Pack is formulated using high-quality, eco-friendly ingredients that minimize the impact on the environment.
Unlock the Full Potential of Your Plants with GROTEK Bloom Pack:
Whether you're a hobbyist gardener or a commercial cultivator, the GROTEK Bloom Pack is the ultimate solution to unlock the full potential of your plants. With its powerful blend of nutrients and supplements, this comprehensive pack ensures your plants receive everything they need for explosive growth, abundant flowering, and exceptional yields. Experience the difference with GROTEK Bloom Pack and take your gardening to new heights!