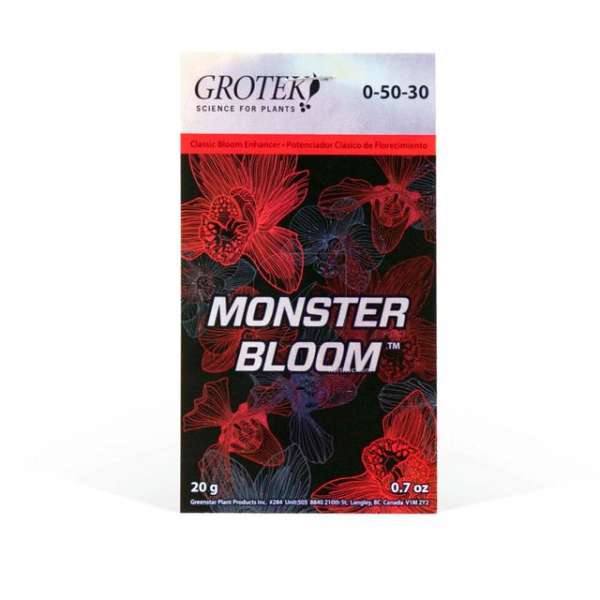 Monster Bloom is designed to increase the plant's ability to flower. It increases the essential oil content in herbs and speeds up the development of flower bud set and the total flowering phase. Monster Bloom adds size and mass to flowers in the budding and flowering cycles. Stop using the last two weeks of the flowering cycle.
Increases A Plant's Ability To Flower
Adds Size And Mass To Flowers
Increases The Essential Oils In Herbs
GROTEK Monster Bloom 20GR - Unleash the Power of Your Plants
Introducing the GROTEK Monster Bloom 20GR, a revolutionary plant nutrient that will take your gardening experience to new heights. Designed to maximize flower production and enhance overall plant growth, this powerful formula is a must-have for any serious gardener or horticulturist.
Unleash the Power:
With GROTEK Monster Bloom 20GR, you can unlock the full potential of your plants. This high-performance nutrient blend is specifically formulated to stimulate massive bud development, resulting in larger, denser, and more potent flowers. Whether you're growing fruits, vegetables, or flowers, this product will give you the edge you need to achieve exceptional yields.
Advanced Formula:
The GROTEK Monster Bloom 20GR features an advanced nutrient profile that is carefully balanced to provide your plants with the essential elements they need for optimal growth. Packed with a potent blend of phosphorus, potassium, and other key nutrients, this formula promotes vigorous root development, robust flowering, and increased nutrient uptake.
Easy to Use:
Using GROTEK Monster Bloom 20GR is a breeze. Simply mix the recommended dosage with water and apply it to your plants during the flowering stage. The water-soluble formula ensures quick absorption, allowing your plants to benefit from the nutrients immediately. Whether you're a beginner or an experienced gardener, this product is user-friendly and guarantees impressive results.
Enhanced Plant Health:
In addition to promoting flower development, GROTEK Monster Bloom 20GR also enhances overall plant health. The carefully selected ingredients in this formula strengthen the plant's immune system, making it more resistant to diseases, pests, and environmental stressors. Your plants will thrive and flourish, ensuring a bountiful harvest.
Proven Results:
GROTEK Monster Bloom 20GR has been extensively tested and proven to deliver exceptional results. Gardeners and horticulturists worldwide have reported significant improvements in flower size, aroma, and potency after using this product. Don't just take our word for it - experience the difference for yourself!
Safe and Reliable:
GROTEK is a trusted brand known for its commitment to quality and safety. The Monster Bloom 20GR is manufactured using the highest industry standards and undergoes rigorous quality control measures. Rest assured, this product is safe for your plants, the environment, and you.
Conclusion:
If you're looking to maximize flower production and achieve exceptional yields, look no further than GROTEK Monster Bloom 20GR. This powerful plant nutrient will unlock the full potential of your plants, resulting in larger, denser, and more potent flowers. With its advanced formula, ease of use, and proven results, this product is a game-changer for any gardener or horticulturist. Invest in GROTEK Monster Bloom 20GR and witness the transformation of your plants into magnificent, thriving specimens.