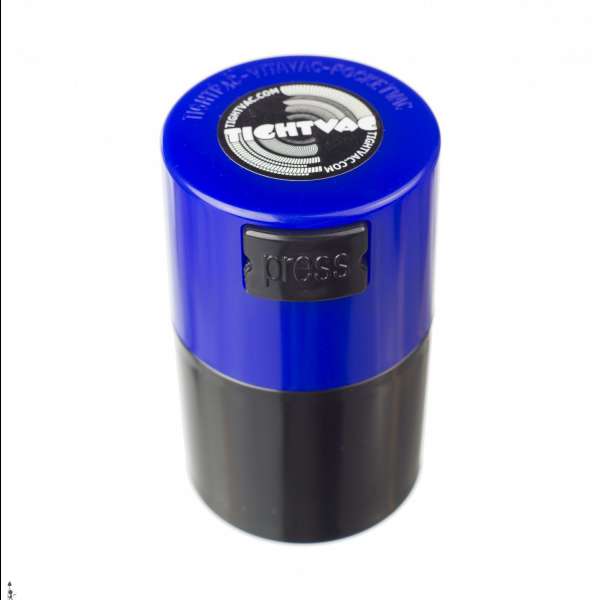 Perfect Airplane Size - The Sustainable Food Storage Container!
This convenient size is not only great for food storage, but it's also perfect for small items (Purse size!) such as herbs, vitamins, prescription drugs, cash, even jewelry. Ideal for Q- tips, make up, small cell phones as well as MP3 players, toy soldiers & coins/change.
Dimensions: 3-3/4"tall x 3"diameter (9.5 cm x 7.6 cm)
Capacity: 3 oz. / .29 liter / 85g
water and air tight
Tightpac Tightvac 0.29 L: The Ultimate Storage Solution
The Tightpac Tightvac 0.29 L is a revolutionary storage container designed to keep your food, herbs, spices, and other perishable items fresh for longer periods. This innovative product is a must-have for anyone who values quality, convenience, and sustainability in their kitchen or pantry.
Unparalleled Freshness: The Tightvac 0.29 L utilizes a unique vacuum seal technology that locks in freshness and flavor. The airtight seal prevents oxygen from entering the container, effectively preserving the contents and extending their shelf life. Whether you're storing coffee beans, tea leaves, or snacks, you can trust that they will remain as fresh as the day you bought them.
Space-Saving Design: With its sleek and compact design, the Tightvac 0.29 L is perfect for maximizing storage space. Its cylindrical shape allows for easy stacking, making it ideal for small kitchens or crowded pantries. Say goodbye to cluttered countertops and hello to an organized and efficient storage solution.
Durable and Long-Lasting: Crafted from high-quality, BPA-free plastic, the Tightvac 0.29 L is built to withstand the test of time. Its robust construction ensures that it won't crack, break, or warp, even with frequent use. This means you can enjoy the benefits of this storage container for years to come, making it a cost-effective investment.
Easy to Use: The Tightvac 0.29 L is incredibly user-friendly. Simply fill the container with your desired contents, press the button on the lid, and watch as the vacuum seal locks in place. Opening the container is just as effortless – just push the button again, and the airtight seal releases, allowing you to access your stored items with ease.
Versatile and Multi-Purpose: The Tightvac 0.29 L is not limited to storing food items. Its versatility makes it suitable for a wide range of applications. Use it to store small hardware items, craft supplies, medications, or even personal hygiene products. The possibilities are endless, and the convenience it offers is unmatched.
Travel-Friendly: Planning a trip? The Tightvac 0.29 L is the perfect travel companion. Its compact size and secure seal make it ideal for packing snacks, vitamins, or other essentials. Whether you're going on a weekend getaway or a long-haul flight, this storage container ensures that your items stay fresh and protected throughout your journey.
Environmentally Conscious: In addition to its practical benefits, the Tightvac 0.29 L is also an eco-friendly choice. By extending the shelf life of your perishable items, you reduce food waste and contribute to a more sustainable future. Furthermore, its durable construction means you won't need to constantly replace disposable containers, reducing plastic waste in the long run.
Conclusion: The Tightpac Tightvac 0.29 L is the ultimate storage solution for those who value freshness, convenience, and sustainability. Its vacuum seal technology, space-saving design, durability, and versatility make it a must-have for any kitchen or pantry. Whether you're a food enthusiast, a frequent traveler, or simply someone who wants to keep their belongings organized, this storage container is sure to exceed your expectations. Invest in the Tightvac 0.29 L and experience the benefits of a truly innovative and reliable storage solution.