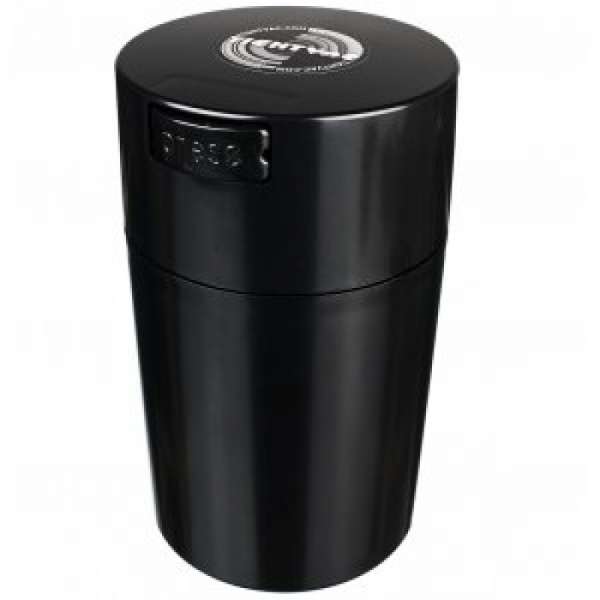 The 0.57 liter/150g SnackVac storage container fits in most purses & bags. TightVac is the ultimate vacuum container for spices and herbs, or for anything you want to keep fresh and dry. SnackVac is Odor-Proof, Air Tight, and Super Water Resistant. It sucks out air as the cap is pushed down, creating a vacuum seal.
Odor-Proof
Air Tight
Super Water Resistant
Tightpac Tightvac 0.57 L: The Ultimate Storage Solution
The Tightpac Tightvac 0.57 L is a revolutionary storage container designed to keep your food, herbs, spices, and other perishable items fresh for longer periods. With its innovative vacuum seal technology, this product ensures that your stored items remain free from moisture, air, and other contaminants, preserving their quality and flavor.
Measuring 0.57 liters in capacity, the Tightvac Tightpac is compact yet spacious enough to accommodate a variety of items. Whether you need to store coffee beans, tea leaves, nuts, or even small snacks, this container offers ample space to keep your essentials organized and easily accessible.
The key feature of the Tightvac Tightpac is its unique vacuum seal mechanism. By simply pressing the button on the lid, you can create an airtight seal that locks in freshness and prevents any odors from escaping. This seal is so effective that it can keep your stored items fresh for up to a year, ensuring that you always have access to high-quality ingredients.
Not only does the Tightvac Tightpac excel in preserving freshness, but it also boasts a sleek and durable design. Made from high-quality BPA-free plastic, this container is built to last. Its sturdy construction ensures that it can withstand daily use without cracking or breaking, making it a reliable storage solution for years to come.
Furthermore, the Tightvac Tightpac is incredibly easy to use. Its wide-mouth opening allows for effortless filling and dispensing of your stored items. The container is also dishwasher safe, making cleaning a breeze. Its compact size and stackable design make it ideal for both home and travel use, allowing you to take your favorite ingredients with you wherever you go.
Whether you're a professional chef, a home cook, or simply someone who appreciates the value of fresh and well-preserved ingredients, the Tightpac Tightvac 0.57 L is a must-have addition to your kitchen. Say goodbye to stale food and wasted ingredients, and embrace the convenience and efficiency of this innovative storage solution. Invest in the Tightvac Tightpac today and experience the difference it can make in preserving the quality and flavor of your favorite items.