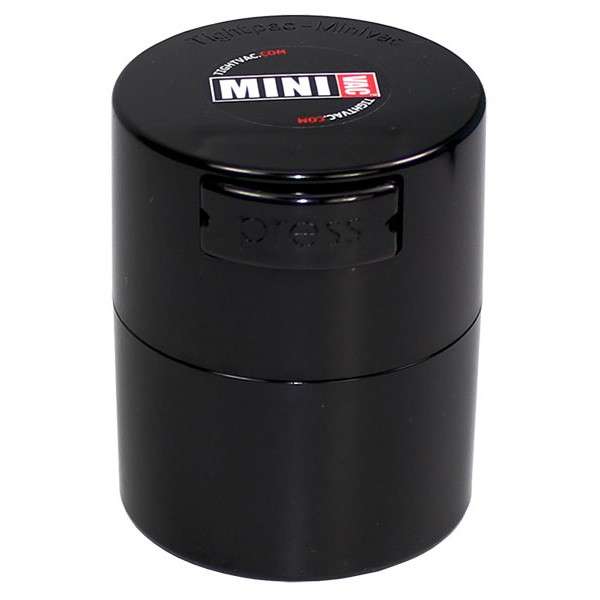 One of the most popular storage containers! The Minivac is the coolest little container - Great for food, office supplies, or home goods! The ultimate saffron container, The perfect vitamin container. Jewelery won't tarnish in a Minivac so you will want more then one! Herbs will keep ultra fresh and traveling is made easy. 
Super cool modern design with a patented TightVac vacuum
Closure system to create an airtight vacuum seal
Made from a durable, long lasting plastic
Tightvac Minivac 0.12 L: The Ultimate Storage Solution
The Tightvac Minivac 0.12 L is a revolutionary storage container designed to keep your perishable items fresh and protected. With its innovative vacuum seal technology, this compact container ensures that your food, herbs, spices, or any other small items stay fresh for longer periods, preserving their flavor, aroma, and quality.
The Minivac 0.12 L is crafted from high-quality, BPA-free plastic, making it safe for storing food items. Its durable construction guarantees long-lasting use, even in the most demanding environments. The container's sleek design and compact size make it perfect for storing in your pantry, kitchen cabinet, or even taking it on the go.
One of the standout features of the Tightvac Minivac 0.12 L is its unique vacuum seal mechanism. With a simple push of the button, the container creates an airtight seal, removing excess air and moisture that can cause your items to spoil. This vacuum seal technology not only extends the shelf life of your perishables but also prevents odors from escaping, keeping your kitchen smelling fresh and clean.
The Minivac 0.12 L is incredibly versatile and can be used to store a wide range of items. Whether you need to keep your coffee beans fresh, store your favorite spices, or organize your small crafting supplies, this container is up to the task. Its compact size makes it ideal for storing small quantities, ensuring that you never waste any of your precious items.
Another notable feature of the Tightvac Minivac 0.12 L is its easy-to-use design. The container features a convenient twist-off cap, allowing for quick and effortless access to your stored items. The cap is also equipped with a built-in pressure release valve, making it easy to open even after the container has been sealed.
Furthermore, the Minivac 0.12 L is not only practical but also aesthetically pleasing. Its sleek and modern design adds a touch of elegance to any kitchen or storage space. The container is available in a variety of vibrant colors, allowing you to choose the one that best suits your personal style.
When it comes to cleaning and maintenance, the Tightvac Minivac 0.12 L is a breeze to handle. The container is dishwasher safe, making it easy to keep it clean and ready for your next storage needs. Its durable construction ensures that it can withstand repeated use and cleaning without losing its effectiveness.
In conclusion, the Tightvac Minivac 0.12 L is the ultimate storage solution for anyone looking to keep their perishable items fresh and organized. With its innovative vacuum seal technology, versatile design, and easy-to-use features, this container is a must-have for every kitchen. Invest in the Minivac 0.12 L today and experience the convenience and freshness it brings to your everyday life.