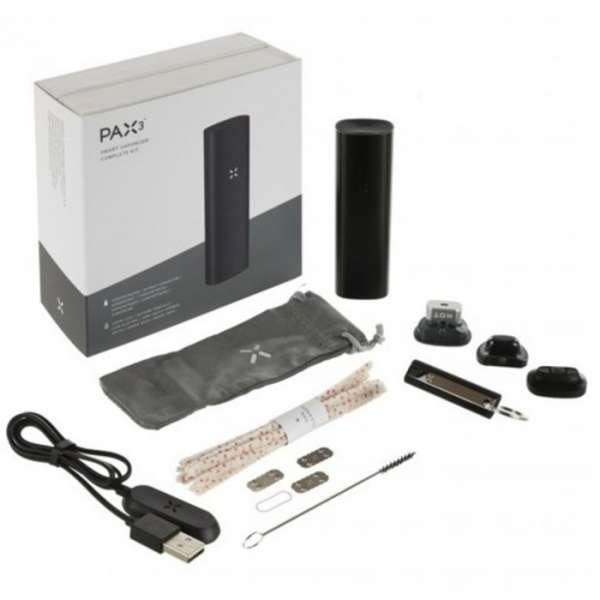 Designed to be the culmination of Pax Labs' expertise, the PAX 3 is a revolutionary dual-use herbal vaporizer built to work with both dry herbs and concentrates. The Pax 3 Full Kit, includes the concentrate insert required for wax and oils.
Half-Pack Oven Lid
Discreet Size & Stylish Finish
Automatic Sensors
The PAX 3 is a perfect vaporizer if you're looking for a stylish, ultra-portable, and smart everyday carry kind of vape that works amazingly well with both flowers and concentrates.
The PAX 3 Complete Kit comes with all the same accessories as originally offered with the PAX 3, including the Concentrate Insert for the extract inclined.  Priced at $249, you get $100 worth of accessories for $50 more than you would pay for the Basic kit. 
PAX has released a smartphone app, allowing you to customize heating profiles, update firmware and even implement security on your PAX 3.
Unlike it's predecessor the PAX 2, the PAX 3 Complete Kit comes with a Concentrate Insert allowing you to switch from herbs to concentrates whenever you like. Usually '2-in-1' vaporizers really only do either dry herb or extracts well, but PAX has done a great job at having both mediums vape great in the PAX 3.
The PAX 3, like the PAX 2, absolutely needs to be packed tight to get the quality vapor we talk about loving from this vape. Now with the Complete Kit, a Half-Pack lid is included - letting you pack half the dry herb and get the same quality session you would expect from a tightly packed, full oven.
POWERFUL PAX 3 VAPORIZER
The PAX 3 Complete Kit is the most recent addition to the innovative PAX lineup of portable herb vaporizers. Featuring an upgraded battery, dynamic heating modes, and premium accessories, PAX 3 is smarter, faster, and stronger than its predecessors. A new polished aluminum exterior offers added style, durability, and grip. The PAX 3 Complete Kit now features a mobile app, half-pack oven lid, and wax concentrate insert, allowing you to fully customize and control your vaping sessions.
PAX 3 allows you to customize your sessions via smartphone using the PAX Vapor app. Easily adjust precision temperature, vapor and flavor output, security, haptic feedback, LED lights, and more. Choose between 4 dynamic modes, each offering a unique experience:
Standard Mode: PAX 3 heats up 5°-10°F when you start inhaling. The PAX Vapor app will display exact temperature in real time.
Boost Mode: Maximizes vapor production. Reduces cooling in between sessions to maintain ideal vaporization temperature. Expect faster heating and denser clouds.
Efficiency Mode: Perfect for extended sessions. Efficiency mode slowly ramps up temperature by 1° every 2 seconds while your lips make contact with the mouthpiece. This provides stabilized vapor production during longer sessions.
Stealth Mode: Maximizes cool down between hits to minimize odor. The LED light will automatically dim, keeping your sessions under wraps.
Flavor Mode: Extracts more flavor. This mode heats and cools faster to maintain the low temperature that is ideal for releasing subtle flavor notes.
The latest dry herb vaporizer from PAX Labs may seem similar in appearance to the PAX 2, but the technical developments that have been introduced make the PAX 3 far more functional than its predecessor. The PAX 3 has the same dimensions as the PAX 2, but new color and kit options, as well as internal upgrades, set the latest edition a step above.
What we found most impressive with the new design is the heating speed - it now only takes 15 seconds to heat the chambers and your dry herbs; the PAX 3 now helpfully vibrates when the desired temperature has been reached. The chamber can hold .35g, but when this is too much dry herb for a single session, like when you're vaping solo, PAX Labs have included a very useful half pack oven lid in the Complete Kit allowing you to pack less in the chamber and conserve your precious herbs. 
The PAX 3 also boasts a superior battery life to the PAX 2 and a shorter recharge time from dead. The 10 year warranty goes to show the confidence PAX Labs has in the build quality of the PAX 3 and gives you the peace of mind knowing that your device will last. 
Concentrate Compatibility
PAX 3 is the first of the PAX line to feature concentrate compatibility. Boasting a premium insert, PAX 3 easily converts to a concentrate vaporizer. Place the included insert into the herb chamber and enjoy all the nuances of concentrates on-the-go. PAX 3 features temperature settings optimized for concentrates, delivering smooth, flavorful hits.
Half-Pack Oven Lid
A new half-pack oven lid ensures excellent vapor quality even with smaller loads of dry herb. Simple to use and designed for easy cleaning, this essential accessory enables you to get more flavor and effects from less material. Expect about 2 sessions per fully loaded half-pack oven lid.
3500MAH LI-ON Battery
Utilizing a 3500mAh lithium ion battery, the PAX 3 Complete Kit has 500mAh more power than its predecessor. Enjoy longer battery life and faster heating. The PAX 3 comes with a magnetic charging dock with an easy snap-on connection, charging the unit via USB. When fully charged, PAX 3 can run for close to 1.5 hours. Boosted power greatly increases heat up time, with the lowest vaping temp reached in just 15 seconds. Expect quick hits whenever and wherever you want.
Haptic Vibration
Designed for maximum discretion, PAX 3 introduces haptic feedback. Rather than wait for a display to alert you when your vape has reached its set temperature, you'll be alerted by vibration. This feature enables you to keep your PAX 3 concealed when not in use. You'll also receive a vibration notification if the device enters Standby Mode. The PAX Vapor app allows users to adjust vibration strength for a personalized experience.
How to Clean PAX 3
To ensure optimal vapor production and airflow, it is crucial to keep your PAX 3 vapor path and screen residue-free. PAX 3 Complete Kit includes a wire brush and pipe cleaners for thorough cleaning. To clean the PAX 3, remove the mouthpiece and brush out the vapor path, then take off the oven lid to scrub out the chamber. To remove heavy residue buildup, a few drops of isopropyl alcohol, followed by a generous scrub using the wire brush, will break down resin or melted concentrates. If you do end up using isopropyl alcohol, make sure to perform a "burn off", setting your vape at the highest temp and running it with no herb in the chamber.
Automatic Sensors
The cutting-edge technology of the PAX 3 utilizes multiple motion sensors to enhance your entire vaporizing experience. Providing an instant vibration when the device has fully heated to your chosen temperature, you'll never be left aimlessly wondering whether your vape is ready to be used or not.
Better still, the built-in motion sensors only ensure maximum heat is produced when you bring the vape to your lips. Otherwise, it shuts itself off when sensing it's being set down. Able to save impressive amounts of battery life and only providing heat precisely when you need it, the PAX 3 is hailed for its user-focused nature.
Discreet Size & Stylish Finish
Able to fit in the vast majority of pockets and slip discreetly into the palm of your hand, the PAX 3 is perfect for on-the-go use. Better still, its sleek matte finish provides a refreshing alternative to many other vapes on the market, further enhancing its discreet nature and leaving you safe in the knowledge you have one of the most stylish portably vaporizers currently available.
Kit Includes:
PAX 3 Vaporizer
Charger
Flat Mouthpiece
Raised Mouthpiece
10-year Warranty
Cleaning Kit
Standard Oven Lid
Half-Pack Oven Lid
Concentrate Insert
Extra Screens
Multi-Tool
Carrying Pouch