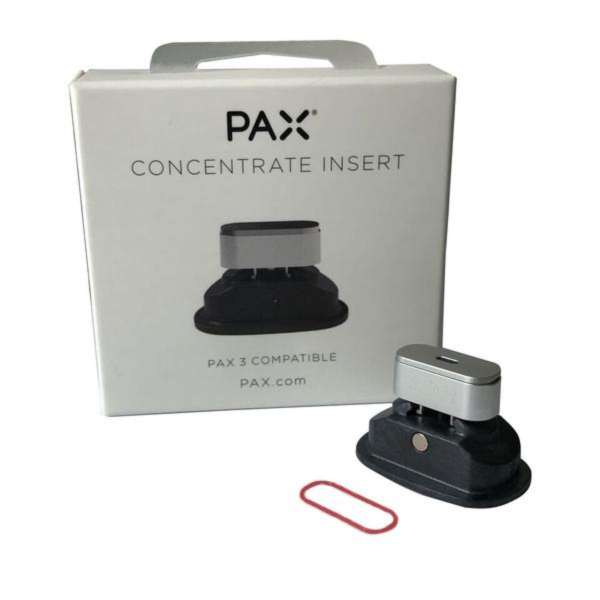 The PAX 3 Vaporizer features a concentrate insert which instantly turns the device into an awesome concentrate vape. Once you experience it, you will want to use it every time. Having an authentic concentrate insert replacement or spare will be handy for you.

 
compatible with Pax 3 portable vaporizers
allows you to evaporate your favourite extracts
Replaces the herb door with a custom dish
You should make sure you always clean your vaporizer's concentrate insert. Cleaning is a simple task to accomplish; you can vaporize what remains at a high temperature or use a pipe cleaner and a drop of isopropyl alcohol to clean it out.
This Concentrate Insert from Pax is for vaporizing herbal concentrates in your PAX 2 Vaporizer, PAX 3 Complete Vaporizer Kit, or PAX 3 Basic Vaporizer. Replaces the herb door with a custom dish.
This concentrate insert from Pax allows you to enjoy concentrates from your Pax 3 device. Whether you need a replacement or want a spare, this insert is a must have for any pax 3 owner who enjoys concentrates. To help maintain the insert and provide you with the best vapor quality and flavour, we recommend regularly cleaning this insert.
Concentrate Insert dedicated for PAX 3 Vaporizer. It allows you to evaporate your favourite extracts in your PAX 3 vaporizer. If you have purchased the basic version of the PAX 3 set, the adapter will allow you to expand your vaporizer with the concentrates vaporization function. It will also be useful if you have lost the concentrate insert from the Complete Kit.
* Pack lightly, and use in upright position.