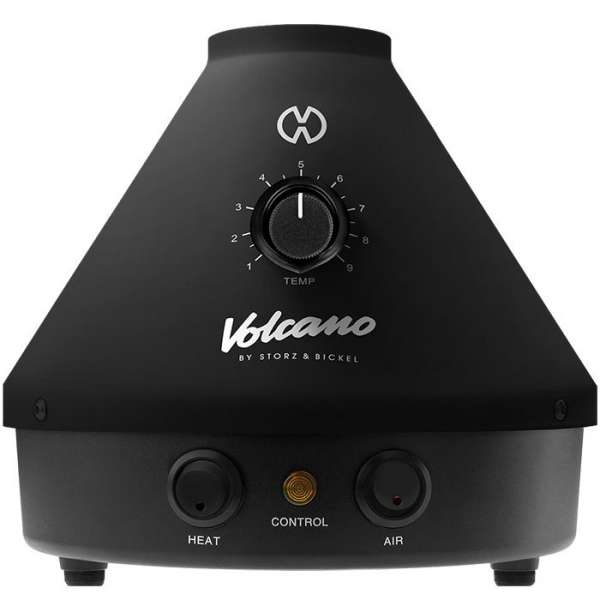 The pioneer. Ever since. The VOLCANO CLASSIC Vaporizer impresses by its robust and purely electromechanical design. High quality materials and craftsmanship guarantee a long working life – made in Germany.
The Volcano is assembled in Germany by hand with rigorous quality controls. Its purely electromechanical design and quality materials serve for an outstanding durability.
Simple Temperature Control
assembled in Germany by hand with rigorous quality controls
quality materials serve for an outstanding durability
The Volcano Classic Vaporizer delivers an excellent vapor production, which has remained unmatched by all competition. Due to its pure convection heating, it delivers unprecedented flavor and pure vapor.
The Volcano Vaporizer is considered by many as the best in the world.
Built to perform for years out of high quality materials, precision air temperature control and reliability previously unreachable in competing products, has given the Volcano a reputation among experts as the most technologically advanced professional vaporizer available.
The Volcano is manufactured in Tuttlingen, a town in Southern Germany which is regarded internationally as the centre for medical technology. The knowledge in the area of medical technology which is available in this town has already been utilized in the development of the Volcano and makes this vaporizer the first choice for discerning users. The Volcano is designed to heat material to temperatures of 130°C to 230° C where medically active vapors are produced, but below the threshold of combustion where smoke is formed.
The overall electric set-up of the Volcano has been kept as robust and simple as possible, and only proven components are used to ensure an unproblematic reliable operation and long life of the product. A main distinctive element of the Volcano is the patented valve balloon into which the vapor generated is pumped. The valve balloon can be completely detached from the device after filling and the contents inhaled at the user's ease. This ensures that the application is absolutely safe, as vaporization occurs beforehand and the user does not come into contact with glass, heat or electricity during inhalation.
The Volcano Vaporizer is so efficient it is able to extract about 75% more active ingredients out of herbs when compared to traditional methods.
In summary, the Volcano uses a basic principal of heating and blowing air to create vapor, but takes the precision of heat control to a level previously unknown. The basic technique mastered by the Volcano allows for a wide range of potential applications.
The Volcano combines simplicity of use, a high degree of safety and particularly good efficiency. It's got a classic design to it that will make you want to leave it out rather than hide it in a desk drawer.
The Volcano Vaporizer is a perfect choice for someone looking for one of the most advanced, highest quality, easy to use, efficient vaporizers on the market. Whether you choose the analog temperature control of the Volcano Classic or the fully digital control of the Volcano Digit, you are getting one of the best vaporizer experiences available.
The Volcano's iconic balloon and valve system ensures that no vapor is lost and allows vapor to be stored for up to 8 hours.  This combined with an enormous aluminum heat exchanger, air filter, and silencer makes the Volcano vaporizer one of the most efficient vaporizers in the world.
Even with all the technical advancements, amazing efficiency and years of research, Storz & Bickel went out of their way to make sure the Volcano Vaporizer is simple to use and nearly error proof.  The 100-watt convection heater makes it impossible to combust your herbs.
The Volcano Classic vaporizer transformed the entire vaping scene when it was released – and it's not hard to see why. Everything about this vape is quality and it's a great choice for those serious about vaping and willing to invest in a truly outstanding, high-performance vaporizer.
If you have tried vaping from a balloon system before you know how convenient it is, both for solo and group use, and it was the Volcano Classic that pioneered the use of balloons to hold vapour. It's simple to use and ideal for both beginners and seasoned vapers alike, because once you've learnt how to utilize this mechanism, you're guaranteed to achieve a first-rate vaping experience every single time.
As soon as you press the button to start the fan, the flavour-rich vapour from your chosen herbs, wax or oil, starts flowing into the balloon from the filling chamber. All vapour produced during your session will collect in the balloon and is easy to be inhaled once the balloon is detached – without experiencing any vapour loss.
Vapour can be stored in the balloon for up to an impressive 8 hours so you can inhale at your leisure which allows you to enjoy top quality, flavourful vapour independent of the session itself.
Simple Temperature Control
The Volcano Classic's distinctive traditional design features an analogue control as opposed to digital. To control the temperature there is central dial that feature 9 temperature increments – each corresponding to a specific degree, perfect for those who prefer simplicity during their sessions. Decide which temperature that matches your herbs, from 130°C and 230°C, and check the Volcano Classic instruction manual to identify which number corresponds that temperature. It's super easy to adjust the temperature and can be done in seconds buttons as the temperature control of this vape has been designed with convenience in mind.
Heating
Even though the Volcano Classic takes up to 3 minutes to fully heat-up, it's definitely worth the wait. Once the desired temperature is reached the control light will go off, letting you know it's ready to start producing vapour. After that it maintains the temperature throughout your entire session meaning you'll never have to worry about your vape suddenly dipping in temperature and requiring to be heated-up once more.
The Volcano heats up in about 3 minutes and features a 100 Watt convection heating source combined with a large aluminum heat exchanger ensuring a constant temperature during vaporization. 
Employing an analog design, the Volcano Classic features simple yet precise temperature control with a range of 266° F - 446° F.   The Volcano Classic delivers some of the most accurate temperatures to your herbs with an accuracy of  ± 5° C / 9° F.  The Classic does not display the temperature on its analog dial and instead displays numbers 1-9 and has a chart included in the box, which shows what temperatures the numbers correspond to.